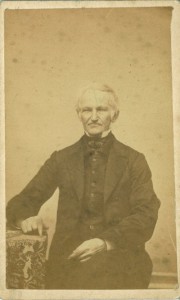 The names my parents ended up giving their children – Christopher, Carolyn, and Katherine – are names that most people would probably consider not that unusual. But there were several other names my father had in mind. For a boy, he liked the name Asa, in honor of his great-great-grandfather Asa Thurston Child (1820–1860). For my sisters he liked the names Tryphena and Tryphosa, after even more removed relatives of whom I was unaware in my youth. These names are biblical, mentioned by Paul in Romans 16: 11: "Salute Tryphena and Tryphosa, who labour in the Lord," and in my experience in genealogy they have often been given to female twins.
I find two Tryphenas in the family. Mother and daughter, the elder was Tryphena Eaton (1768–1849), daughter of Nathaniel and Sarah (Johnson) Eaton, who lived in Woodstock, Ashford, and Mansfield, Connecticut. Tryphena Eaton's birth is not recorded, so I do not know if she had a twin sister named Tryphosa who died young. Tryphena Eaton married Eli Kendall of Ashford and had several children, including twin daughters in 1803 – Tryphena and Tryphosa Kendall.
Tryphena Kendall married Moses Lyon (1793–1865) of Woodstock, who had a series of wives in a relatively short period of time. Moses and Tryphena had four children: Roxanna in 1823 (my great-great-great-grandmother, who married Asa T. Child, above); Mary Elizabeth in 1826 (who died three days later); and a second generation of twins – a boy and girl in 1828, both of whom died the same day. Tryphena herself died only two weeks after delivering the twins and Moses was a 34-year-old widower with a four-year-old daughter.
Moses married for the second time three years later to Sally May. They had a daughter, Sarah Tryphena Lyon, in 1831, her middle name given in honor of Moses's late wife. While the daughter Sarah survived, Moses's young second wife Sally died three months after Sarah's birth. Now 37, Moses Lyon was a widower for the second time, with two daughters aged 7 and three months.
Moses married for the third time a little less than two years later in 1833 to Sally's sister Dolly May. While they had no children, this marriage was also short-lived, lasting for five years and seven months – at this point his longest marriage – as Dorothy died in 1838 at age 39. Moses, now 45, was a widower again for the third time, still with two daughters, now 15 and 7.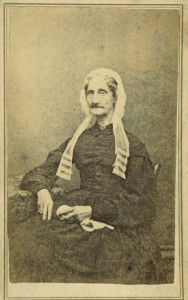 Moses married for the fourth and final time eighteen months later in 1840 to Sarah Williams, who was 41 at the time of their marriage and had never been married before. While they had no children together, this was Moses's longest marriage, lasting until his own death in 1865 with Sarah following three years later.
Moses Lyon is buried with his four wives at Woodstock Hill Cemetery, along with his infant children and his adult daughter Sarah Tryphena, who died unmarried at age 89. His only other child, Roxanna, is buried nearby with her husband Asa Thurston Child. My father took my grandmother (his mother-in-law) to this cemetery years ago and pointed out the stone of Moses Lyon and his four wives. My grandmother remarked "Well, at least he always married women his own age."
These Tryphenas represent the most recent generation(s) of twins in my ancestry. For Moses, having his wives and several children die so young  and so frequently must have been devastating to him and his surviving daughters. Tryphena and Tryphosa have not been used again as names in the family, despite my father's earlier wishes.