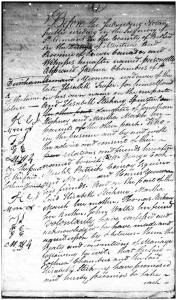 If you descend from French-Canadians, or your ancestors spent some time in Québec, notarial records will be an important source to examine in your research. In Québec, notaries recorded wills, property transactions, inventories, guardianship records, business contracts, and more. Some early notarial records even include marriage contracts. These records will undoubtedly aid your research and provide a wealth of information regarding your ancestors.
First and foremost, you have to establish which notaries practiced in the judicial district where your ancestor lived. To do so, you can consult finding aids. Here at NEHGS, we have finding aids located on the 4th floor, which list notaries alphabetically by surname and by judicial district. The years that each notary practiced are also listed. In our collection, we also have Robert J. Quintin's The Notaries of French Canada, 1626-1900, a very helpful published finding aid. Each of these finding aids also lists the area that each notary served within a judicial district, like Champlain or Chambly.
Some digitized notarial records are located at Bibliothèque et Archives nationales du Québec, FamilySearch.org, and Ancestry.com. You can also order notarial records from FamilySearch. If you have a specific notary in mind, you can search for that notary in the catalog.
But I would strongly suggest a visit to the NEHGS library to examine our extensive collection of notarial records, which extends from the seventeenth century into the twentieth century. We also have indexes to many of these notarial records on microfiche. Indexes are especially crucial if you are examining notarial records recorded in Montréal or Québec. Many, many notaries practiced in these cities at any given time, and determining which notary that your ancestor may have utilized can be time consuming. Indexes will preserve your sanity!
One of the most helpful set of notarial records that I have examined are the records of Léon Lalanne, who was a notary in the Bedford and St. Francis Judicial Districts. Otherwise known as the Eastern Townships, he practiced between the years 1799–1815. Do you have a northern New England ancestor who you think may have "disappeared" in this region of Québec? If so, take a look at these records at the NEHGS library. You may be surprised!
As with any set of records, there are always things to be wary of. Here are a few tips:
Notarial records are filed by judicial district, so do not be disheartened that you cannot find any notaries who are directly tied to, say, Lacolle. Lacolle is a part of the Iberville judicial district, and you will want to search for notaries affiliated with that area. Here is a helpful list of judicial districts in Québec.
Be wary of boundary changes within the judicial districts!
Indexes do not exist for every notary's records.
If there are a manageable amount of notaries practicing in the judicial district where your ancestor lived, examine all the notarial records available! Your ancestor may have employed more than one notary.