In September of 2014, I wrote a blog posted entitled "My ancestor was born … where?!" about my family's unexpected ties to Saint Helena, a remote volcanic island in the South Atlantic Ocean. My great-great-great-grandmother, Charlotte (Sears) Legg, was born on the island of Saint Helena in 1808. She married Henry William Legg, and after his death, settled on Martha's Vineyard with her children. This discovery fascinated me, and since then, I have resolved to learn more about Charlotte and her family. But ultimately, I hoped to learn why my ancestors had settled in such a far-flung locale. Were they soldiers of the British military or members of the East India Company? Sailors who tired of the sea? Or did they simply settle here seeking a better life?
Because of its remote location, I had low expectations for records pertaining to Saint Helena. But I was pleasantly surprised: a varied collection of records has survived, which includes a collection of Saint Helena church records from 1767 until 1835. These records are available on Findmypast and the British Library has also transcribed miscellaneous records as a part of their India Office Records collection.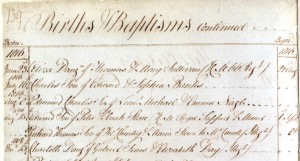 Between these two sources, I was able to uncover more about these ancestors. I learned that Charlotte was born 13 December 1808 and baptized at Saint Helena 8 September 1816. She was listed as the illegitimate daughter of Gabriel Sears and Elizabeth Day, and she married Henry William Legg at Saint Helena 27 August 1822. I was surprised to learn that she was listed as illegitimate, but shocked to discover that she had married at the age of thirteen.
The India Office Records collection also included information on Charlotte's husband. Henry William Legg was born at Saint Helena 5 November 1799 to John and Emily Legg. The Leggs proved a little easier to trace, as I was able to learn that John Legg and Amelia Knipe had married at Saint Helena 17 January 1799. Years later, at the time of John Legg's death in 1829, he was listed as a publican or tavern keeper.
Though these records have shed a little more light on Charlotte and others, they only provide a few details about their lives. The ultimate question – Why were they at Saint Helena in the first place? – is still elusive and will require some more digging. Fortunately, there are more records that might provide answers. But, for now, these Saint Helena ancestors remain a tantalizing part of my family tree, and another item on my lengthy genealogy to-do list.