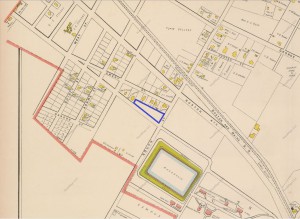 Recently, I moved from my hometown of Dedham to Medford, Massachusetts. I never really thought about it, but I had always assumed my family had no connections to places north of Boston. My mother and her siblings grew up in Needham (in Norfolk County), and my maternal grandfather and grandmother were raised in Dorchester and Roslindale, respectively.
When I moved, I haphazardly placed my copies of family records in a folder, which I planned to organize when I was settled into my new apartment. With extra time off during the holidays, I went through my papers, and made an interesting discovery.
One of my family mysteries is the ancestry of my great-grandmother, Mabel (Lynch) Muir. Her parents were John and Delia (Kerwin) Lynch. Delia was an Irish immigrant, and John Lynch arrived in Boston from Nova Scotia with his mother Jessie (Durling) Lynch and his sisters in 1867. John Lynch's father, Samuel, died on 14 February 1892 in Boston, where John and Delia made their home.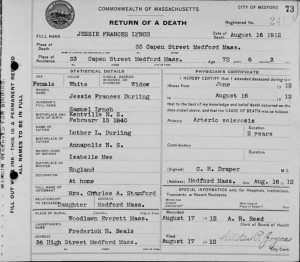 When cleaning out my records, I came across the death certificate of Jessie Lynch, recorded in 1912, which I hadn't really looked at since I located it in 2013. Surprisingly, Jessie's death, located in Massachusetts Vital Records, 1911-1915, revealed that she died at 33 Capen Street . . . in Medford, Massachusetts.
The location of Jessie's death struck me immediately when I re-read the record; I currently live on North Street in Medford, and cross Capen Street everyday on my commute to NEHGS. What a coincidence that I unknowingly moved to the same neighborhood in which my great-great-great-grandmother resided prior to her death!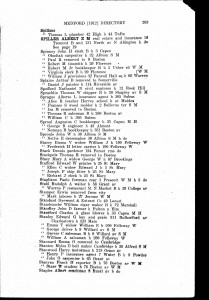 I wondered how Jessie came to live in Medford. The informant on her death certificate was her daughter, Mrs. Charles A. Stamford of Medford. Emma Lynch, daughter of Samuel and Jessie Lynch, married Charles A. Staniford on 1 May 1878. In the 1912 Medford city directory, Charles A. Staniford, glassblower, was living at 33 Capen Street.
Now that I knew how my great-great-great-grandmother came to live in Medford, I began to research the area, wanting to learn more about my new home. I was particularly interested in learning what the town looked like around the time that Jessie was living there, and how it had changed from the 1910s to the present.
The Medford Historical Society has several maps of the area digitized on their website. Though the society does not have any digitized maps from the 1910s, there are a variety of maps for the area ranging from the years 1637 to 1901.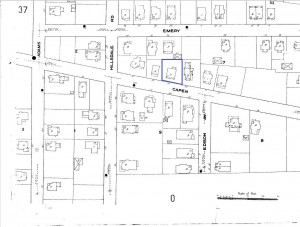 In looking at the historical maps on the website, several aspects caught my attention. In 1855, the area where I live (and Jessie lived) was largely farmland, but by 1875 was more developed. By 1889, the lot for Jessie's home on Capen Street appears to exist, but there is no indication of a house on the property, as indicated in other lots of land (highlighted above in blue). The Digital Sanborn Maps Collection gave me access to Medford maps created in 1910, where I located the Staniford household where Jessie once lived.
Looking at historical maps can be tricky. Changing street names and land development can make it difficult to pinpoint an ancestor's home. Using a historic or well-known part of an area can help you locate an ancestor's home on a map; I live close to Tufts University, and used the campus as a guide to locating the approximate area of my neighborhood. That proved especially helpful, as I learned that until about 1900 North Street had been known as West Street!