Editor's Note: NEHGS Senior Research Scholar Emeritus Gary Boyd Roberts makes his Vita Brevis début with a series of articles updating entries to his Ancestors of American Presidents, 2009 Edition, and its 2012 reprint.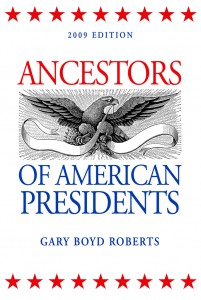 The subject matter of Ancestors of American Presidents (first published in 1989) is intrinsically interesting, of course, but I have also found it to be a useful delineator of major patterns in American genealogical evolution. As I noted in the introduction to the 2009 edition of this book, within it "lie not only clues perhaps to new lines in your own ancestry, but also … various, and collectively millions, of kinships to presidents. Discovering and enjoying these kinships…, you will, I hope, have further thoughts about your own genealogical connection, or 'fit,' into the country at large."
The following entries show recent published research on the ancestors of American presidents and their spouses:
Dorothy ____, wife of John Plumb of Wethersfield and Branford, Conn., and ancestor of Franklin Delano Roosevelt (p. 550), was Dorothy Chaplin, sister of Mrs. Martha Chaplin Parke (p. 636), first wife (and first cousin) of Robert Parke of New London and Stonington, Conn., an ancestor of President Harding; First Ladies Ellen Wilson and Bess Truman (pp. 642–43); and the late Diana, Princess of Wales, her sons, and her grandchildren. Dorothy and Martha were daughters of William Chaplin (and Agnes Holborough), son by an unknown wife of William Chaplin, d. 1575–77/78, of Long Melford, Suffolk, these last parents also of Alice Chaplin, wife of an elder Robert Parke and mother of the above New London immigrant. See The American Genealogist 82 [2007]: 250–61. The Chaplin-derived kinship between Harding and FDR is the first between these two presidents, so FDR now has 19 presidential kinsmen, one more than G.H.W. and G.W. Bush, and Harding has ten (pp. 591–93).
Ulysses S. Grant and F.D. Roosevelt ancestor John Scudder (pp. 56 [#142], 455) was a son of Henry Scudder, d. 1594–95, of Horton Kirby, Kent, and Elizabeth ____. An almost certain granddaughter of this couple was the immigrant Bridget ____ of Salem, Mass., wife of Thomas Verry and Edward Giles, and mother of Eleazer Giles (p. 95), Taft ancestor #228. The resulting kinship between Grant and Taft would also be their first. Taft would then have 17 presidential kinsmen, and Grant eight. See TAG 72 [1997]: 285–300.
Grant and F.D. Roosevelt ancestor Elizabeth (Stoughton) Scudder (pp. 56 [#143], 455) was a daughter of Rev. Thomas Stoughton, b. ca. 1555, vicar of Naughton, Suffolk, and Coggeshall, Essex, and his first wife, Katherine ____. Elizabeth's brother was Israel Stoughton (1602/3–1644), militia officer and founder of Dorchester, Mass., who married Elizabeth Knight, maternal aunt of Yale College benefactor Elihu Yale, and left (in addition to William Stoughton, chief justice of Mass. during the Salem witchcraft trials) a daughter, Rebecca Stoughton, who married William Tailer. Elizabeth (Tailer) Nelson, daughter of these last, was FDR ancestor #175, p. 124. See TAG 72 [1997]: 295–97, 29 [1953]: 193–204, 33 [1957]: 105–12, and the Nelson work by Temple Prime cited on p. 263. And for Exhurst, Roberts, likely Colepepper and Roper, and possible Lewknor and RD [royal descent] ancestry of the Stoughtons, see The New England Historical and Genealogical Register 165 [2011]: 245–60, 166 [2012]: 46–70.
To be continued.