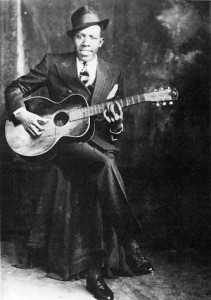 Rock and roll icon Eric Clapton once described Robert Johnson as "the most important blues musician who ever lived."[1] Despite the fact that Johnson influenced musicians decades after his death, his life is shrouded in mystery. Johnson is believed to have been born on 8 May 1911 in Hazelhurst, Mississippi, to Julia (Major) Dodds and Noah Johnson.[2] Julia was married to a prosperous landowner named Charles Dodds at the time of her son's birth. Charles Dodds had been forced to leave Hazelhurst following a dispute with white land owners.[3]
By 1913, two-year-old Robert Johnson was sent to Memphis to live with Charles Dodds, where he is known to have attended school in 1916 before rejoining his mother in the Mississippi Delta area around 1919. By this time, Robert's mother had remarried to a man known as Dusty Willis, who was 24 years her junior.[4] In the 1920 Census, Robert was listed as Robert Spencer.[5] Robert attended school in 1924 and 1927, and researchers have speculated that based upon the quality of the signature on his marriage licenses, Robert was at least somewhat educated.[6]
Despite the fame he gained in later decades, information about Robert Johnson's life is only known through sparse records, and personal information has been provided largely by those who knew him, few of them well. Further adding to the lack of information on Johnson's life is the fact that he lived in a time when African Americans were marginalized, and it was not until the re-release of Johnson's recordings in 1961 that he attained popularity with white fans.
In February 1929, Robert (under the surname of his biological father, Noah Johnson) married sixteen-year-old Virginia Travis. She died shortly after their marriage during childbirth.[7] It is believed that after moving to the town of Martinsville, near Hazelhurst, Johnson fathered a child with Virgie Jane Smith. This child, Claud Johnson, was named the sole heir of Robert Johnson, who left no will, after a court case in 1998.[8] In May 1931, Johnson married Caletta Craft, who also died during childbirth, in 1932.[9] After Caletta's death, Johnson became a traveling musician, drifting between large cities such as Memphis and small towns throughout the Mississippi Delta.[10]
Even less is known about the towns and the venues where Johnson played. Blues musician Johnny Shines accompanied Johnson to Chicago, Texas, New York, Canada, Kentucky, and Indiana.[11] In 1941, Blues legend Muddy Waters claimed that Johnson had performed in the area around Clarksdale, Mississippi.[12] Johnson is said to have used as many as eight different surnames during his lifetime.[13]
The mystery surrounding Robert Johnson even extended to those who knew him. As a friend and traveling partner, Johnny Shines came to spend a great deal of time with Johnson. Still, Shines would later claim that Robert sometimes walked off in the middle of a performance, not to be seen again for two or three weeks.[14]
Robert Johnson's life and career would have remained in obscurity, like so many other blues musicians of his time, had it not been for a series of fateful events. In 1936, Johnson sought out a man named H.C. Speir, who managed a general store while also working as a talent scout. Through this connection, Johnson was eventually introduced to a man by the name of Don Law, who aided him in recording his music.
Beginning on 23 November 1936, Johnson recorded 16 songs over the course of three days in Room 414 of the Gunter Hotel in San Antonio, Texas. The songs "Terraplane Blues" and "Last Fair Deal Gone Down" were the first to be released, and they are believed to be the only recordings of his music that Johnson would live to hear.[15] In 1937, Robert Johnson traveled to Dallas, where he recorded more of his music in a makeshift studio at the Vitagraph Building.[16] Altogether, Johnson recorded 29 songs, including alternate takes, which constitute his entire known discography.
Robert Johnson remained largely unknown to the general public until his recordings were re-released in the form of the LP King of the Delta Blues Singers, which was released in 1961 and has come to be regarded as among the most influential albums of all time.
Much of the information about the life of Robert Johnson is subject to intense debate, and his cause of death has added to the mystery. What is known is that Johnson died 16 August 1938 near Greenwood, Mississippi, at the age of 27.[17] It is said that Johnson had been performing in the area for several weeks before to his death. According to an account by musician Sonny Boy Williamson, Johnson had been flirting with a married woman. The woman was said to have then provided Johnson with a bottle of whiskey which had been poisoned by her husband.
Initially, Williamson knocked the bottle out of Johnson's hand and admonished him for trying to drink a bottle he had not seen opened personally; however, Johnson was given another bottle shortly thereafter, from which he did drink.[18] It is reported that Johnson began feeling ill the following evening and over the next three days his condition deteriorated: witnesses claim he died convulsing in a state of severe pain.[19] The only investigation that was conducted was by the LeFlore County Registrar, who, after speaking with the owner of the plantation where he died, concluded "he was buried in a homemade coffin furnished by the county. The plantation owner said it was of his opinion that the negro died of syphilis."[20]
Adding to the mysterious life and death of Robert Johnson is the fact that the place of his burial is unknown to this day. Three different grave markers have since been placed for Johnson. The first suggested location was in an unmarked grave at the Mount Zion Missionary Baptist Church near Morgan City, Mississippi. Another marker was placed in the cemetery of the Payne Chapel near Quito, Mississippi, in 1990. Lastly, it was claimed by the wife of the supposed gravedigger that Johnson was buried under a pecan tree in the cemetery of the Little Zion Church, north of Greenwood. A final theory speculates that, due to his poverty, Johnson was likely buried in a pauper's grave near the place he died.[21]
Although he is regarded as one of the most influential musicians of the first half of the twentieth century, Johnson's legacy has been forever tied to a legend which has given him his greatest notoriety. According to this legend, as a young man Johnson took his guitar to the crossroads near Dockery Plantation at midnight, where he met the devil. The devil is said to have taken Johnson's guitar, tuned it, and played a few songs before returning it, giving Johnson mastery of the instrument.[22] Historians have traced the origins of the legend to Johnson's rediscovery by white fans in the early 1960s. The tale has since become a part of Johnson's legacy and further contributes to the glamour surrounding this pillar of music history and African American history.
The story of Robert Johnson shows that while we may have some records that tell us about the lives of those who came before us, we may never know their true personalities. Furthermore, it reminds us that despite the fact that he died just 77 years ago, very little is known about this man who traveled the back roads and never left a trace.
Notes
[1] Andrew Buncombe, "The Grandfather of Rock'n'Roll: The Devil's Instrument," Independent, 22 September 2011.
[2] G. Wardlow and E. M. Komara, Chasin' That Devil Music: Searching for the Blues (San Francisco: Miller Freeman Books, 1998).
[3] Peter Guralnick, Searching for Robert Johnson (New York: E. P. Dutton, 1989), pp. 10–11.
[4] Ibid., p. 11.
[5] Tom Freeland, "Robert Johnson: Some Witnesses to a Short Life," Living Blues 150 [March/April 2000]: 49.
[6] Wardlow and Komara, Chasin' That Devil Music, p. 201.
[7] Elijah Wald, Escaping the Delta: Robert Johnson and the Invention of the Blues (New York: Amistad, 2004), p. 108.
[8] Rick Bragg, "Court Rules Father of the Blues Has a Son," New York Times, 17 June 2000.
[9] Barry Lee Pearson and Bill McCulloch, Robert Johnson: Lost and Found (Champaign, Ill.: University of Illinois Press, 2003), p. 6.
[10] Ibid., p. 12.
[11] Ibid., p. 114.
[12] Alan Lomax, The Land Where the Blues Began (London: Methuen, 2003).
[13] Ted Gioia, Delta Blues: The Life and Times of the Mississippi Masters Who Revolutionised American Music (New York: Norton, 2008), pp. 172–73.
[14] Samuel B. Charters, Robert Johnson (Oakland, Calif.: Oak Publications, 1973).
[15] Wald, Escaping the Delta, p. 131.
[16] "Blues wizard's S.A. Legacy," San Antonio Express-News, 30 November 1986, p. 1-J.
[17] Guralnick, Searching for Robert Johnson.
[18] The Search for Robert Johnson, 1992 Film.
[19] Ibid.
[20] Reverse side of Johnson's Death Certificate, provided by http://blues.jfrewald.com/wp-content/uploads/2009/07/cert_back.jpg.
[21] Steve Cheseborough, Blues Traveling: The Holy Sites of Delta Blues (Jackson, Miss.: University Press of Mississippi, 2008), pp. 145–46.
[22] Wald, Escaping the Delta, pp. 265–76.