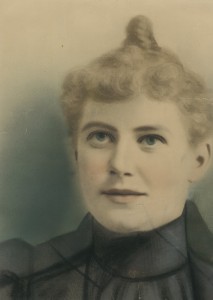 My mother was born with an unusual last name – Cottuli – which has been both a blessing and a curse for my research. The blessing is that when I find someone with that last name, they always turn out to be related. The curse is that it's misspelled everywhere and documents can be difficult to find. Recently, however, the uncommon name led to a very happy set of circumstances.
My first cousin, Carl Cottuli, contacted me a couple of months ago and said that a woman in Rhode Island named Keri had reached out to him online. She was cleaning out her stepfather's desk in Massachusetts and discovered a portrait of a woman, together with an 1896 baptismal certificate for Henrietta Lillian Cottuli. There are no markings on the portrait to identify whether the woman is Henrietta or someone else.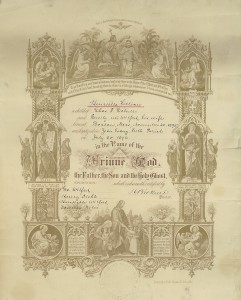 Not having any idea who Henrietta was, Keri searched online for the name Cottuli and came up with Cousin Carl. She emailed the info to him and he reached out to me. Sure enough, I had Henrietta in the family tree. She was a first cousin of my grandfather, also named Carl Cottuli. To make matters more mysterious, Keri later told me that she found the items in a secret compartment of her stepfather's desk. She did not recognize the name Cottuli on the baptismal certificate because, as we later deduced, it had apparently belonged to her stepfather's second wife, whose maiden name was Smith. She was Henrietta's daughter. Henrietta had married Melvin C. Smith in 1923 and they had two children.
Feeling relatively certain that Henrietta had descendants who would like to have both the portrait and the baptismal certificate, I set out to find one of them. I discovered Henrietta in an online family tree and sent a message to the tree's owner. The next day I got a message back from Diane Hunt, who lives in California and is Henrietta's granddaughter. So I found a new third cousin, and she said she would love to have the documents. Keri sent them to Cousin Carl, and I picked them up last month while visiting family in Massachusetts. I had them scanned and sent the originals off to Diane in California.
When she received the portrait, she compared it to old family photos. It turns out that the pastel portrait was not Henrietta but her mother, Emily (Wilfert) Cottuli, and Diane actually had the photograph that was apparently the basis of the pastel portrait. It was a very satisfying resolution to the mystery, with the baptismal certificate and portrait ending up exactly where they should be. I can't thank Keri enough for taking the time to search for Henrietta's family. I know that not everyone would have done the same. And it's always a good day when I discover a new cousin.