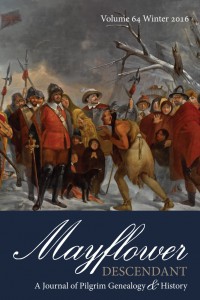 When the season turns to Thanksgiving, we often think of the first Pilgrims arriving on these shores aboard the Mayflower. And lately at NEHGS, when we think about the Mayflower, we think specifically of the Mayflower Descendant, of which NEHGS will be the steward for the next ten years. Christopher C. Child, Senior Genealogist of the Newbury Street Press at NEHGS, is the new editor, and busily at work on the first issue, due to mail to subscribers in January 2016. The first Descendant was published in 1899 by George Ernest Bowman, under the auspices of the Massachusetts Society of Mayflower Descendants, which continued to publish it until recently.
With Chris and the editorial board taking the publication in something of a different direction from years past – broadening the scope to include more history on the towns in which Mayflower descendants lived and a wider range of families treated – we thought we'd offer a preview of the articles that will appear in the Winter 2016 issue:
A reprint of Robert Charles Anderson's town study of Scituate, Massachusetts, the third town organized under the Plymouth Colony;
A reprint of Bowman's article addressing the inventory of Samual2 Eaton (Francis1), who arrived on the Mayflower as an infant, and the settlement of his estate;
A new article from Christopher Carter Lee that shows how poetry chronicled John Alden's descendants in New York City;
Marian Natale's new article on Solomon Cushman's first wife, Ruth, whose parentage is not known but is explored here;
Child's first installment of a series of articles on the Orcutt Family of Weymouth, Massachusetts, following William1 Orcutt and descendants for three generations;
An article by Caleb H. Johnson (previous editor of the Descendant) and Simon Neal on Mayflower-related documents in the records of the Court of the King's Bench in London;
David Allen Lambert concludes his transcription of the vital records of Easton, Massachusetts;
Gary Boyd Roberts and Julie Helen Otto explore notable Mayflower descendants, focusing in this issue on Horatio Alger and Willis Haviland Carrier; and
Child offers a roundup of Mayflower-related genealogy published elsewhere in 2014.
We're looking forward to this first issue and to carrying on the tradition of high scholarly standards established by the Massachusetts Society of Mayflower Descendants. The Descendant will be published twice a year and is available by subscription.