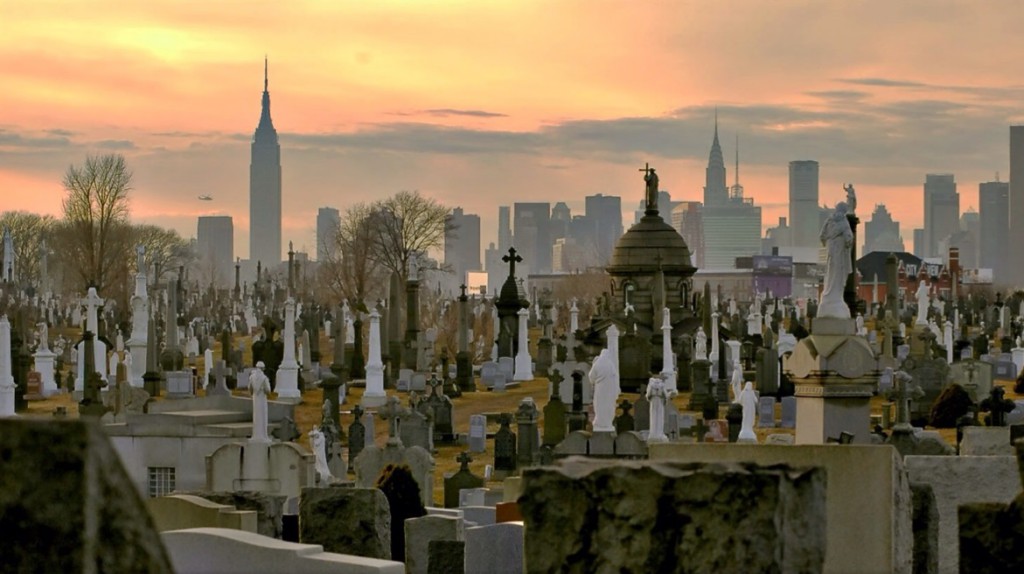 I am fortunate to be the oldest of eleven grandchildren. Because of my age, I was old enough to remember attending my great-great-aunt's eightieth birthday party, dancing with my great-grandmother at my aunt's wedding, and eating several Thanksgiving dinners with my great-great-uncle. I enjoyed spending time with my Lowell and Manhattan relatives; they had really cool stories about playing street games, stealing from ice trucks and, on one specific occasion, a time in which they were detained by police for catcalling an officer on horseback. So, when NEHGS sent me to Ridgefield, Connecticut, for a genealogical fair, I decided to take a slight detour to visit my storytelling ancestors who are buried in Calvary Cemetery in Queens.
Now, Calvary Cemetery contains the largest number of interments of any cemetery in the United States (about 3 million). So, rather than walking aimlessly through acres of tombstones, I called my mother (who checked with Nana) for the burial plot information of my great-grandparents: "Mary Mohan is Section 63, Plot 59, Grave 2. If you are looking at the stone, then Nana Agnes is behind, maybe 3 or 4 rows." Armed with the information from Nana, I downloaded a map of Calvary Cemetery, located Section 63, and went confidently on my way…
When I first pulled up to Fourth Calvary Cemetery, I immediately remembered my great-grandmother's Agnes's funeral. I was only 8 years old, but I distinctly recalled the sound of airplanes flying into La Guardia and the rumble of the Long Island Expressway as I stood quietly, listening to the remarks from my uncle Dan. And, when I followed the map to Section 63, further and further from the highway overpass, I became less confident in my memory of the day. I thought that Nana Agnes was buried closer to the Expressway…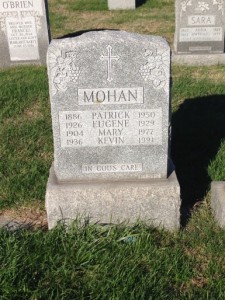 Upon arriving at Section 63 I immediately found Nana Mohan; her husband, Patrick Mohan; their 3-year-old son, Eugene Mohan; and their adult son, Kevin. I took several pictures of the grave (which were subsequently uploaded to www.findagrave.com) and began looking for the tombstone of my Nana Agnes, who was supposedly buried three or four rows behind Nana Mohan. Yet, after traversing the entirety of Section 63, I was unable to locate her grave. Maybe my grandmother was mistaken? Maybe she was buried closer to the highway overpass, as I remembered?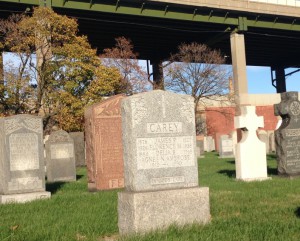 As I tried to recall that day in August of 1990, I walked closer to the overpass, trying to pinpoint the place that I stood as an 8-year-old. I went from Section 63 to an area closer to the Expressway: Section 58. And bingo! after a few minutes I found the tombstone of my great-grandmother, Agnes N. Ambrose; her mother, Bridget Carey; her father, James P. Carey; and her 12-year-old sister, Florence Carey. I was so impressed with my memory, especially considering the distance between the two stones was not three or four rows, as mom and Nana remembered, but about 560 feet.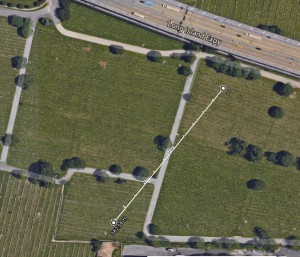 Now in the defense of my mother and grandmother (whom I love dearly), Calvary Cemetery is gigantic. So I can see that when family members are buried a stone's throw from one another (if you can throw like Cy Young), it may seem as if they are only a few rows from one another. And while I often rely on my grandmother and mother's input, this occasion reminded me to use caution when interviewing family members. Because memory can be tricky: family members can recall names, events, places, and ages differently, just as my memory of Calvary Cemetery was unlike my mother and grandmother's recollections.
So while family stories are a wonderful research tool, researchers must work to detangle memories and family lore from the facts.