The youngest of the surviving Beeckman siblings, my great-great-uncle Livy[1] was the first to die. My great-grandmother – his sister Margaret Atherton (Beeckman) Steward (1861–1951) – preserved what was presumably the last of his letters, written from his house in California in advance of the Stewards' fiftieth wedding anniversary in January 1935: it is among the family papers in my grandfather's iron box.
"Dear Cam & Daisy," Uncle Livy wrote, "I only wish I could send you a castle in gold to live in for the rest of your lives – but I am afraid it would be only a castle in the air. You have had such a wonderful life together that you have set us all an example I envy. I hope you both have many happy years together and I only wish I could be with you to congratulate you on the happy day. With much love to you both, R.L.B."
"They had a beautiful day for the wedding breakfast," as my great-grandmother's bridesmaid (and my great-grandfather's first cousin) Mary Steward[2] recalled to Helen Worden of the New York World. "Of course Mrs. Steward would have had more people [to celebrate her golden wedding anniversary on 28 January 1935], but the death of her brother [on 21 January] prevented that."
Helen Worden continues: "Miss Mary and her sister, Miss Sarah,[3] of 1,165 Fifth Ave., are among the few New Yorkers who own an attic. Theirs is at Goshen, under the eaves of a fine old Colonial mansion built by the first John Steward in 1740. Knowing of the attic, and being a magpie myself, I thought Miss Mary might possibly have kept the gown she wore to her cousin's wedding. 'Mercy no!' she exclaimed. 'I've even forgotten what it looked like except that it was white.'"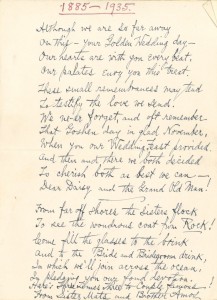 Daisy and Livy's sister Mattie French[4] was evidently still in Europe at the time of the Stewards' golden wedding anniversary celebrations, as she and her husband Amos launched into verse to mark the occasion:
We ne-er forget, and oft remember,
That Goshen day in glad November,
When you our Wedding Feast provided,
and then and there we decided
To cherish both as best we can –
Dear Daisy and the Grand Old Man!
The Frenches end their verses with a rousing
Here's Three Times Three to Couple famous!
From Sister Mats and Brother Amos
Continued here.
Notes
[1] Robert Livingston Beeckman (1866–1935), Governor of Rhode Island 1915–21. He was married to Eleanor Nancy Thomas 1902–20 and to Edna (Marston) Burke in 1923.
[2] Mary Bogert Steward (1860–1955). An amateur architect, she designed the Campbell Stewards' house in Goshen, New York.
[3] Sarah Steward (1862–1953).
[4] Martha Codwise Beeckman (1863–1951) married Amos Tuck French in Goshen in November 1914.