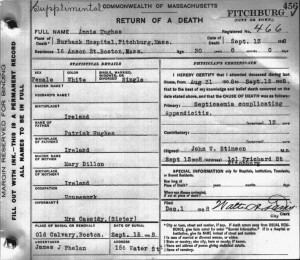 For the last several months, I have been trying to determine the origins of each of my mother's Irish ancestors. In a previous post, I mentioned my success in locating the origins of my Kenefick ancestors; however, I have been having trouble with some ancestors with much more common surnames.
The earliest record I have for my maternal great-great-grandparents Patrick Cassidy and Mary Hughes is their marriage record, dated in Boston 28 November 1888. According to the record, Mary Hughes was the daughter of Patrick and Mary Hughes; her death record further indicated that she was the daughter of Patrick Hughes and Mary Dillon, but when I searched Irish baptism records, there were still several women named Mary Hughes who could potentially be my ancestor.
I then turned to my coworker, Irish expert Eileen Pironti, for assistance in finding my Mary Hughes. She suggested focusing on seeing if any siblings of Mary's came to America, and searching databases, such as our database Massachusetts Vital Records, 1850-1910, using specific parameters: search for the Hughes surname along with the full names of Mary's parents.
Following her advice, I searched Massachusetts Vital Records, 1850-1910, and Massachusetts Vital Records, 1911-1915, for anyone with the Hughes surname with the parents Patrick Hughes and Mary Dillon. I located two death records, the first for an Annie Hughes, age 30, who died in Boston 13 September 1908. Annie's address is listed as 16 Anson Street, the same address where my Cassidy family was residing at the time of the 1910 Census. The second death record I found was for a Margaret McMahon, daughter of Patrick Hughes and Mary Dillon of Ireland, who died in 1914. Based on these death records, Eileen's suggestion was correct: several of the siblings of Mary Hughes had left Ireland to come to Massachusetts.
In locating the birthplace of Mary Hughes, the real break came with her brother, Patrick Hughes. A Patrick Hughes, son of Patrick Hughes and Mary Dillon, married Elizabeth Agnes Green in Needham, Massachusetts, on 18 September 1899. As a man, Patrick was more likely to naturalize than his sisters Mary, Annie, and Margaret, so I tried to locate a naturalization petition for Patrick.
I found Patrick, who naturalized in 1896, listing his birthplace as County Mayo, Ireland. Going back to Irish baptism records, I was able to locate a Patrick Hughes and Mary Dillon baptizing children in the Kilcommin and Robeen Catholic parish in County Mayo. This Patrick and Mary (Dillon) Hughes had nine children, including Mary, Patrick, and Margaret.
As Hughes is such a common surname, I am very fortunate that several of Mary Hughes' siblings came to Massachusetts as well, helping to narrow my search. Looking at an ancestor's siblings is always helpful, and the siblings of immigrant ancestors can provide additional information on your ancestors' origins.