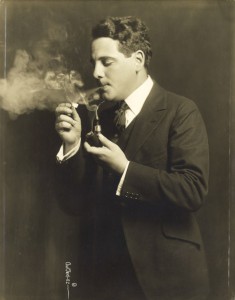 I tried this for July 4, and thought it might be fun to try it again: I have several photos of Hollywood actors and actresses associated with a director and a film, and I wonder if some Vita Brevis readers can square the circle and identify the photos' subjects.
The first (at left) shows an actor from the director's first film, in 1914. I bought the photo itself because of the beautiful lighting effects, capturing the flare of the match stick and the haze of the pipe smoke, but an added inducement was certainly the actor's association with his storied director. Questions: Who is the actor, who is the director (who was still active in the 1950s), and what is the name of the film?

The actor and the actresses shown subsequently all appeared in the same 1919 film.

Next we have an actor (at right), listed at The Internet Movie Database in this 1919 production in an "Undetermined role." I suspect, given the film's plot, that he appeared as some sort of island native, encountered by the film's hero and heroine. It is this film that our director directed, and in which the other actors and actresses appeared.

Questions: Who is this actor, and what is the name of the film?

This actress (above) embraces her far more famous co-star in another director's 1924 film, but she appeared in our subject film in 1919. Question: Who are they?
While the actor in this photo (at right) was well-known in the 1920s, it is the young actress – active into the 1970s – whom we remember today. Here they are in another director's 1921 film. Question: Who are they?
To recap:
I'm looking for the director of a 1919 silent film. His first film appeared in 1914.
The two actors and two actresses sought appeared in this 1919 film, although only the first is shown in a studio portrait associated with the film. The others to be identified are shown with co-stars in later films, but all five images are connected to our director's films in some way…!
*This juvenile was active into the 1990s.
Please send your guesses to me at scott.steward@nehgs.org, and I will update this post with answers in the coming days.