A few months ago, my husband and I moved to Dorchester, Massachusetts, to work as caretakers of the William Clapp house, which was built in 1806. William Clapp and his wife, Elizabeth (Humphreys) Clapp, were married in the parlor of this house on 15 December 1806. They had nine children, two of whom died at a young age. This family also suffered the loss of three more children in November of 1838 from typhoid fever. Rebecca Clapp, aged twenty, and James Clapp, aged nineteen, died on the same day, and their brother Alexander Clapp, aged seventeen, died four days later.
William Clapp and his sons, Lemuel, Thaddeus, and Frederick, were involved in a number of agricultural pursuits, including the hybridization of pears, most notably the "Clapp's Favorite" pear. To accommodate their large family, and address the need for added work space for dairy production and other farming tasks, an addition was built onto the back of this house circa 1838. My husband and I live in this section of the house. It is believed that the large fireplace in our living room was used for cooking in order to use the original kitchen in the basement of the main house for other farm duties. Our basement was used for the production of butter and cheese, and it is possible that over the years a few farmhands or servants resided as boarders in the addition.
Four generations of the Clapp family lived in this house. Frank L. Clapp, William and Elizabeth (Humphreys) Clapp's great-grandson, was the last member of this family to reside on the property. Frank married but did not have any children. He sold the house to the Dorchester Historical Society in the mid-1940s, but continued to live in the house until his death in 1953. Today this house serves as the headquarters of the Dorchester Historical Society. My husband and I conduct tours of the property for visitors once a month, which has provided us with the opportunity to learn more about the Clapp family and the history of Dorchester.
My husband recently discovered something in our section of the house which has piqued my interest. He noticed several sets of initials etched in one of our bedroom windows, including the initials "RDC." When I showed a friend these marks, she pointed out the initials "SAC" on another section of the window pane. Since they both contain the letter C for the surname, I checked census entries for the Clapp family to see if I could locate two family members with these initials. Listed in the household of Lemuel and Charlotte Clapp in the 1860 U.S. Federal Census were Rebecca D. Clapp, age nineteen, and Sarah A. Clapp, age twelve.[i]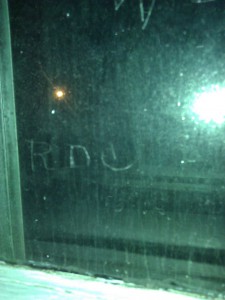 There is a strong possibility that the initials pertain to these two girls, since Lemuel and Charlotte (Tuttle) Clapp lived in this house with Lemuel's parents, William and Elizabeth (Humphreys) Clapp, after their marriage in 1840. Lemuel and Charlotte's oldest child, Rebecca Dexter Clapp, was born in Dorchester on 9 May 1841.[ii] Her sister Sarah Austin Clapp was born in Dorchester on 18 February 1848.[iii] Rebecca and Sarah had three other siblings: William (Frank L. Clapp's father), Elizabeth, and James. There are two other initials etched in the window that appear to match up with the first names of two of the siblings, "W" and "E." A third letter is more difficult to read. While it looks like a "T," it may have been a "J," which would match the first name of the youngest sibling, James Clapp.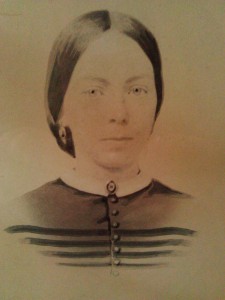 Rebecca Dexter Clapp died in Dorchester on 6 March 1865 from consumption.[iv]  She was twenty-three years of age. A photograph of Rebecca hangs in the front room of the William Clapp house. It was taken circa 1858 when she was about seventeen. There is no way of knowing when the initials were written on our window, but when I look at them, I cannot help but imagine several of the Clapp children running up the stairs and playing in that very room. No one from the Clapp family has lived in this house in over sixty years, but those initials are a lasting reminder of members of that family from long ago.
Notes
[i] 1860 U.S. Census, Dorchester, Norfolk County, Massachusetts, Roll: M653_516; Page: 290; Image: 292, viewed at Ancestry.com.
[ii] Massachusetts Vital Records to 1850, online database at AmericanAncestors.org, citing Vital Records of the Town of Dorchester from 1826 to 1849, 2: 17.
[iii] Ibid.
[iv] Massachusetts Vital Records, 1841-1910, online database at AmericanAncestors.org, citing Dorchester deaths, 184: 202.