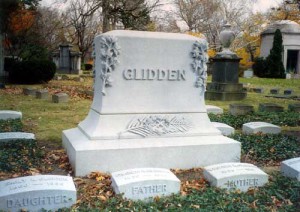 There is a tendency, I think, to imagine that our ancestors moved around far less than we do, that they were parked in one spot for years at a time – perhaps they were born, married, and died in the same place. If, in fact, they emigrated to another country, this was a one-time thing, for by doing so they must have exhausted their wanderlust.
The experience of my own ancestors refutes this truism, although I certainly do have forebears who stayed in one place for generations at a time. One part of my mother's family is a good example: Her great-grandfather, William Pierce Harrington Glidden (1830–1913), was one of a large family born to Joseph Glidden of Newcastle, Maine (1791–1855), and his two wives, Emily Harrington (1798–1836) and Mary Otis Taylor (1811–1874).[1]
Maine, Virginia, and Louisiana
Joseph and Emily's first surviving child, Emily Harrington Glidden (1819–1897), married twice and lived for years with her second husband, Captain George Frost Blunt Leighton (1816–1905), at Tanners Creek in Norfolk County, Virginia. The next two sons married local girls and stayed in Newcastle and Portland, Maine, but then the next two daughters wed ship captains and died, young, in New Orleans.
South Carolina, New York, and Ohio
Mary Myrick Glidden (1828–1901) was next, and she married William Francis Joy of Boston. But this marriage between New Englanders took place in Georgetown, South Carolina, on the eve of the Civil War. My great-great-grandfather was the next child, and he married his landlady's stepdaughter (Jane Letitia Hughes) in Brooklyn, New York, before following his younger brother to Cleveland, Ohio.
Alabama and Ohio
Francis Harrington Glidden (1832–1922) wed his second cousin Winifred Kavanagh Waters and then, like some of his elder sisters, moved south: in his case it was to Mobile, Alabama, and family legend tells that he spent the Civil War years as a prisoner of war there. During the 1860s both William and Frank Glidden found work as paint and varnish salesmen, and by the early 1870s were (briefly) partners in their own varnish company: this venture, under Uncle Frank Glidden's guidance, and with other partners, became what is today the Glidden Paint Company.
The last of Joseph and Emily (Harrington) Glidden's children was Jeanette (Nettie), who was brought up by (and with the name of) her uncle and aunt Simon and Jane (Glidden) Handley; even after her father remarried she remained with the Handley family. Her Webb descendants, like the Joys, settled in Boston.
Joseph and Mary Otis (Taylor) Glidden had three more children: Katharine Augusta Glidden (b. 1841), Priscilla Child Glidden (b. 1843),[2] and James P. Glidden (b. 1846). Kate and Priscilla married brothers, William P. Porter and Walter S. Porter of Georgetown, South Carolina. By 1880, Aunt Kate Porter's son John was living in Cleveland, in the household of my great-great-grandparents, while Aunt Kate and her other children were in Tanners Creek with the Leightons. These family ties were tenacious, it would seem, no matter what the distance!
Notes
[1] See Rev. David Quimby Cushman, The History of Ancient Sheepscot and Newcastle… (Bath, Me.: E. Upton & Son, Printers, 1882), pp. 383–84.
[2] Named for her older half-sister, Priscilla (Glidden) Child (1824­–1842).