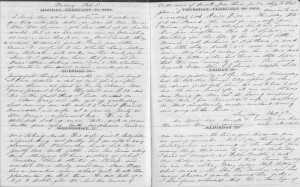 One of the most remarkable entries in the Regina Shober Gray diary – a document not short on remarkable entries – is the one where the diarist recounts a vivid dream in which she is a murderess. In the dream, as she says, she felt no "remorse or horror (for I did not deny the murder), but only a dull, stolid amazement that I should find myself in this disastrous, mortifying position."[1]
The cool appraisal with which the diarist considers her feelings and motivations, the lack of self-consciousness about her professed guilt, and the ease with which she insists that she is a "lady" suggest that the diary was never meant to be read by others. Something of her husband's personality, and something of her son Sam's character, may be divined in the roles they play in the dream. In it, Mrs. Gray imagines herself readying herself for death: "I was not conscious of any horror, only a dreary sense of the 'pity of it' all, and a little shiver at the sight of the coffin!"
She begins this part of the entry with the reflection that "If I were inclined to be superstitious, wh[ich] I certainly am not, I might think something very terrible were impending over me." Mrs. Gray then tells of her husband's dream, two nights before, that she "had become maniacally insane, and he [had] had to take me to [the asylum at] Somerville." Dr. Gray ascribed this unsettling nightmare to "having eaten at supper, a thing he rarely does.
"But I," she continues, "who had no such excuse as indigestion &c. dreamed last night that I was being tried for murder, and being condemned to be hung was left tied to a stake in an open field to await the end. I woke up, greatly relieved to find it only a dream, bathed my face, moved round a little and returned to bed, only to carry on the same dreadful dream.
"I was not conscious of any horror, only a dreary sense of the 'pity of it' all, and a little shiver at the sight of the coffin!"
"They came to me, saying I was to be hung at the Town Hall for the example's sake. I told them I thought that rather hard, seeing that I was a lady – and that I would much rather they would do the business up, there, and at once! But they dragged me off, and then came a dreary time of being locked up &c…
"Here again I woke and roused myself thoroughly, walking in the next room &c. and yet when I went back to bed and dropped asleep once more, lo, my dream again took up its interrupted story – and we were all dining together for the last time before my execution. Among the company were my father,[2] and Mrs. Shober,[3] and Dr. Gray, and several others, and my son Sam.[4] [I beckoned] to him to leave the room with me, saying it was not worth while to disturb the others – it would only disturb them to say good bye, and if he did not mind going with me we two would slip off and get the ugly affair over, before they could miss us!
"Then we found ourselves waiting in a jailer's office. A woman in black came in, wh[om] the jailer introduced as his wife, adding 'I thought it would be pleasanter for you to have a woman about you'! Then the door opened and a walnut wood coffin was brought [in], at which both Sam and I started a little.
"Then I turned to Sam, with 'Sonny, it's awful hard on you to stay through this, don't wait any longer; I can get along very well without any of you,' and Sam replied 'No, somebody's got to see this thing through to the bitter end, Mother, and it might as well be me as another. I'll stay, and put you through!'
"Then, they put up posts & a crop-piece, and knotted a noose in a cable big enough to anchor a seventy-four[5] – and then –
"I woke again – and found it was 6½ o'c[lock], and thought I had had enough of sleep for one night…
"I note this dream here because of a queer coherence, sustained through several breaks of waking & sleeping; my first waking being at 1½, my second & 3d being  at about 4 and at 6½ a.m.
"I was not conscious of any horror, only a dreary sense of the 'pity of it' all, and a little shiver at the sight of the coffin! And there seemed nothing unnatural or impossible in the ghastly circumstances, wh[ich] did not seem to prevent our eating that last dinner (for me) with a good appetite!"
Notes
[1] Hedwiga Regina Shober Gray diary, R. Stanton Avery Special Collections, entry for 29 September 1874. She was married to Dr. Francis Henry Gray 1844–80.
[2] Samuel Lieberkuhn Shober (1789–1847), who was married to Mary Ann Bedford 1813–28 and to Lucy Hall Bradlee in 1830. Hedwiga Regina Shober (1818–1885) was his second daughter.
[3] The diarist's stepmother, Lucy Hall Bradlee (1806–1902), who was married to Samuel Lieberkuhn Shober 1830–47.
[4] Mrs. Gray's second son, Samuel Shober Gray (1849–1926).
[5] A two-deck sailing ship, carrying seventy-four guns.