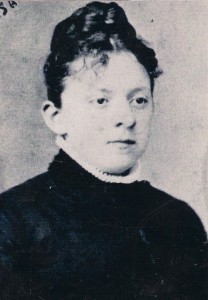 It is said time and time again that our immigrant ancestors came to America for a better life. What I often find in my research is that once they made the journey, they were met with hardship and heartache.
In 1845, my great-great-great-grandfather Terence Duross and his brother Charles emigrated from Trillick (Kilskeery parish) in County Tyrone, Ireland. They settled in Massachusetts where they were naturalized, married, and had children. Then in 1862, at age 36, Terence was struck by lightning and killed, leaving behind his wife and three small children. In 1876, Charles was killed in a railroad car accident at age 47, leaving his wife and six children ranging in age from 3 to 21. It was the not future they had envisioned, certainly. But given that they left Ireland at the time of the Great Famine, what choice did they really have?
Charles Duross' daughter Sarah married James Colford in 1896. In 1901, Sarah gave birth to a son who she named Charles, after her father. Tragically, Sarah died less than two weeks after giving birth at age 29. When I found Sarah's 1901 death record, my eyes were drawn to the death of another Colford on the same page of the register. It was Catherine Colford, Sarah's mother-in-law, who committed suicide exactly three months after Sarah's death. A closer look at Catherine's life revealed another story of an immigrant to America who suffered great tragedy in her new home country.
Like Terence and Charles, Catherine (Harper) Colford emigrated from Ireland, and she and her husband Thomas had five children here. Their youngest son, Nicholas, was killed at age 27 in a railroad car accident. In 1900, Thomas died of stomach cancer. Six months after his death, Sarah (Duross) Colford died after giving birth, and three months after that, Catherine's body was found in a field, a half-empty bottle of strychnine by her side.
And then there is my great-great-grandfather Domenico Caldarelli, who was responsible for his own hardships in America. He and his wife Maria emigrated from Naples in the 1890s with their four children and settled in New York City. Through census records, court records, and newspaper articles, I learned last year that a few short years after emigrating, Domenico shot a man in the head in broad daylight. The victim, on his deathbed, claimed to be in love with Maria, and added that she was in love with him as well.
He may have been defending his marriage, but Domenico was sentenced to serve ten years in Sing Sing. After eight years he was released from prison and is seen a few months after his release in the 1905 New York Census living with Maria and the children. But he died just a year later. When he boarded the ship for America, he could not have anticipated spending most of the rest of his life in prison.
I'm afraid that many of our immigrant ancestors didn't get the better life they were seeking. We, however, are the beneficiaries of their courage and willingness to seek new lives. And isn't that a big part of what they sought? We all want our children to have more opportunities than we have. I'm sure our immigrant ancestors wanted their children and grandchildren to have every chance at a better life than the one they left behind. Terence and Charles and Catherine and Domenico may have faced hardship and heartache, but they did, indeed, provide more and greater opportunities for those of us who came after.