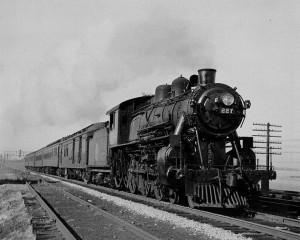 In one of my recent cases, I was searching for a woman who had been living in New York in the 1860s, and then removed to Charleston, South Carolina, with her husband and children. After several years in Charleston, she died in 1872. Her death certificate could not be found in Charleston. However, the client provided a document from the record collection "New York, Department of Health, Manhattan Bodies in Transit, Vols. 5-10 (1870-1886)," located at the New York City Municipal Archives and available on microfilm from the Family History Library.[i]
This document was essentially her death record. It included her name; age at death; death date and place; cause of death; birth place; when her body passed through New York; the person responsible for certification; and the name and address of applicant. This document indicated that she died in Charleston, passed through New York, and was buried in Boston.
I was also able to find this record as an index listing on FamilySearch in the database "New York Deaths and Burials, 1795-1952." The accompanying microfilm number refers to the Manhattan Bodies in Transit record collection. Interestingly, this index listed her place of death as New York City.
I looked for more information about this collection, and found an old article online written by Elizabeth Nitschke Hicks, which provided a good summary of these records:[ii]
This film contains images of ledgers that record the transportation of corpses within, in and out of, and through New York State and were created in the interest of public health. The time period covered, 1859-1894, saw increased population growth with arrivals of many immigrants, occurrence of various epidemics, and the return of hundreds—perhaps thousands—of soldiers' bodies from the battlefields of the Civil War. These records of "bodies in transit" provided public health officials with important information concerning the cause and place of death and the final disposal of the body. Although the place of interment for the majority of the "bodies in transit" was a cemetery in New York State, many—like the body of President Lincoln—were interred in various other states. The places of birth vary even more.
Notes
[i] Manhattan Bodies in Transit, 1859-1894 database.
[ii] "Bodies in transit" at Clayton Library Friends.