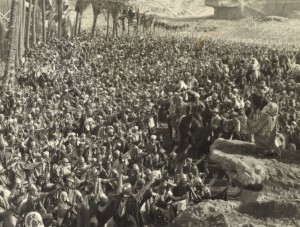 Ben-Hur:  A Tale of the Christ (1925) was one of the great spectacles of the silent period; it was also one of the first movies to be produced by the newly amalgamated Metro–Goldwyn–Mayer film corporation. The uncredited cast list reads like a Hollywood Who's Who of the 1920s (and later): among the (future) stars said to have participated in the film are John and Lionel Barrymore, Gary Cooper, Joan Crawford, Marion Davies, Douglas Fairbanks (Sr.), Clark Gable, Janet Gaynor, John Gilbert, Dorothy and Lillian Gish, Harold Lloyd, Carole Lombard, Myrna Loy, Colleen Moore, Mary Pickford, Sally Rand, and Fay Wray.[1]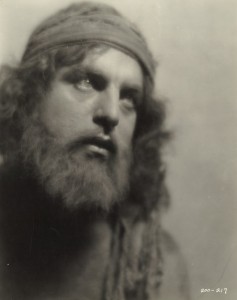 As I've mentioned previously in my posts about Hollywood photos, I sometimes buy images of interesting people or by interesting photographers, even when the identity of the sitter/photographer is unknown. In such cases, I am usually unable to link the image to a given production. In my recent purchase of two photos associated with the 1925 version of Ben-Hur, I find myself with a familiar problem: no subject and no photographer listed for the image shown at right.
Fortunately, The Internet Movie Database (IMDb) comes to the rescue – to a degree. In terms of the cast list, IMDb reports both the credited players and the extras who participated in crowd scenes during the famous chariot race. As for photographers, the IMDb entry for the film yields a bewildering array of potential names: Edoardo Bragaglia (in Rome) and Clarence Sinclair Bull, Edward T. Estabrook, Donald Biddle Keyes, and Ruth Harriet Louise (in California).
While working through the IMDb entries on the film, the actors, and the potential portrait photographer who might be responsible for this image, one character name stood out: Claude Payton (1882–1955) as Jesus Christ. According to the cast list, Payton is uncredited, which suggests that the role is a small one – indeed, my Google searches for Claude Payton turned up nothing in the way of an image associated with the actor or the part.
And if the actor seems a little old to be playing Jesus Christ, Claude Payton was more than 40 at the time he acted in Ben-Hur. (H. B. Warner appeared as Jesus in 1927's King of Kings, when he was 51.) Unfortunately, Payton's career bristles with parts in which he appeared uncredited, especially after the sound period began. With a career spanning a quarter century, Payton's greatest exposure probably came in Ben-Hur, although as late as 1936 he appeared (uncredited) as the master of ceremonies in Anthony Adverse, with Fredric March and Olivia de Havilland.
So with all these caveats, could this be Claude Payton? By way of comparison, here is a still from The Last Frontier (1932), starring Lon Chaney Jr. and Francis X. Bushman Jr., and featuring Payton as Colonel Halliday.
Note
[1] The film starred Ramon Novarro as Ben-Hur, Francis X. Bushman (Sr.) as Messala, May McAvoy as Esther, Betty Bronson as Mary, and Carmel Myers (in costumes by Erté) as Iras.