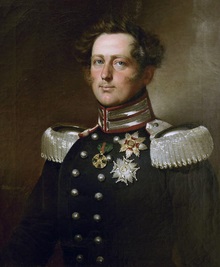 The British constitutional historian Walter Bagehot (1826–1877) wrote that "When there is a select committee on the Queen, the charm of royalty will be gone. Its mystery is its life. We must not let in daylight upon magic."[1] There is something uncanny about royalty, a mystique that can be hard to value according to its merits. This phrase of Bagehot's – with its reference to "mystery" and "magic" – came to mind as I was thinking about the question of morganatic marriages in Germany.
For Queen Victoria's contemporaries among the royal houses of Europe, the idea of "unequal" marriage – one undertaken by two people of differing ranks, generally a royal male with a non-royal bride – was particularly obnoxious. When a member of a royal house married an opera singer or an actress, his bride and her offspring were to have no place in the succession. The bride might receive a title of lower rank than her husband's, and this could be passed along to their children, but these misalliances were outside the ken of the official histories of the kingdom, duchy, or principality in question.
And, of course, such misalliances – called morganatic marriages – happened with some frequency. Their cost in terms of the participants' self-respect and future prospects was prodigious, but in general the system was successful in keeping the bloodlines of these royal houses "untainted" by non-royal blood.
When the succession of the royal house was in question, however, all bets were off. One fascinating example is the way in which the Grand Dukes of Baden (1806–1918) handled the almost immediate failure of the elder grand ducal line (from Grand Duke Karl Friedrich's first marriage) by turning to Karl Friedrich's second (and morganatic) wife, the Countess of Hochberg, and her children.[2]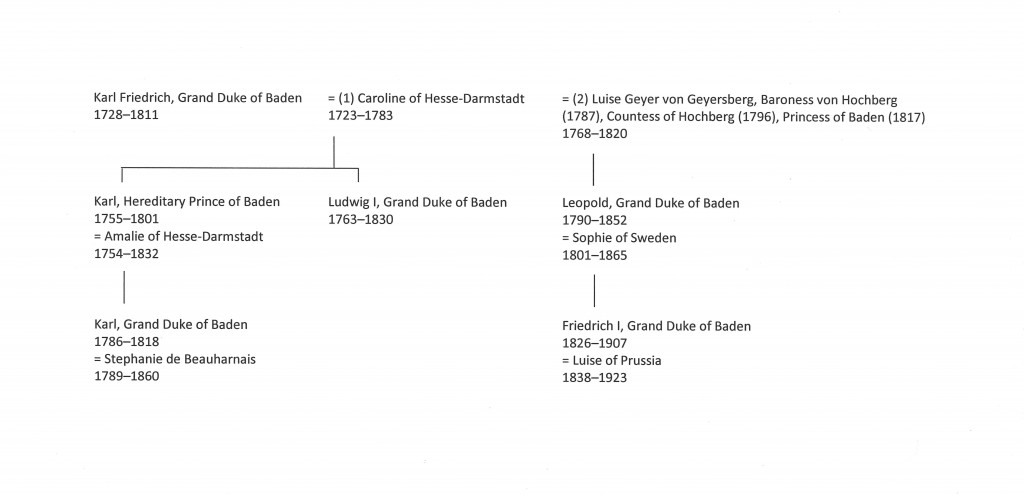 The Hereditary Prince of Baden died in 1801, before his father assumed the title of Grand Duke, leaving a son (later Grand Duke Karl) and six daughters (including the Queen of Bavaria, Empress of Russia, and Queen of Sweden). In 1806, Prince Karl married Napoleon's adopted daughter, Stephanie de Beauharnais, and three months later his grandfather proclaimed himself Grand Duke. When Karl Friedrich died in 1811, he was succeeded by his grandson, but Grand Duke Karl's two sons died young and his three daughters could not succeed him when he died in 1818.
Grand Duke Karl's uncle, Prince Ludwig, succeeded him, but already the grand ducal house had taken steps to address the looming succession crisis. Karl Friedrich had had a second family with Luise Geyer von Geyersberg, who was created Baroness von Hochberg in 1787 and Countess of Hochberg in 1796. Soon after taking the rank of Grand Duke, Karl Friedrich had included his Hochberg children in the succession to the Grand Duchy, and in 1817 his widow and their surviving children became Princes and Princesses of Baden.
Grand Duke Ludwig died in 1830, at which point he was succeeded by his half-brother, born Leopold Freiherr von Hochberg in 1790. A Prince of Baden from 1817, Grand Duke Leopold took the not-uncommon royal step of marrying his great-niece, Princess Sophie of Sweden, in 1819! In due course Leopold and Sophie's son, Grand Duke Friedrich I, married Princess Luise of Prussia, daughter of Wilhelm I, Emperor of Germany – Friedrich's unusual pedigree was evidently no bar to an alliance with the ruling family of a newly united Germany.
All of which is to say that the offspring of such marriages could be both attractive and useful. Two other examples come to mind: the father of Princess Victoria Mary of Teck (1867–1953), later Queen Mary, was the product of a morganatic marriage,[3] and the Queen's good looks and good sense could well be attributed to her father's family. In the same period, Queen Victoria's granddaughter Princess Victoria of Hesse-Darmstadt married her cousin Prince Louis of Battenberg (1854–1921), of a non-dynastic branch of the Hessian grand ducal house: their children included Princess Andrew of Greece and Denmark, the mother of Prince Philip, Duke of Edinburgh (1921–), and Queen Louise of Sweden, not to mention Earl Mountbatten of Burma (1900–1979), the last Viceroy of India.[4]
Notes
[1] Walter Bagehot, The English Constitution and Other Essays, rev. ed. (New York: D. Appleton & Company, 1884), p. 127.
[2] Burke's Royal Families of the World, 2 vols. (London: Burke's Peerage Ltd., 1977–80), 1: 196–99.
[3] Ibid., 184–85.
[4] Ibid., 213–14.