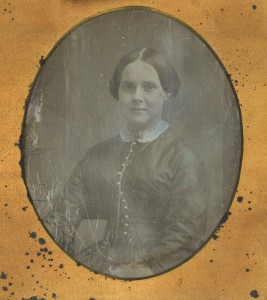 Among the prizes in my grandfather's box of family papers is a small double daguerreotype case containing images of my great-great-grandparents, Gilbert Livingston Beeckman (1824–1874) and Margaret Atherton Foster (1832–1904). While I have seen several images of Mrs. Beeckman, including a Fagnani pastel of her as a young bride, I have no other representation of G. L. (or G. Livingston) Beeckman, for whom my grandfather Gilbert Livingston Steward was named.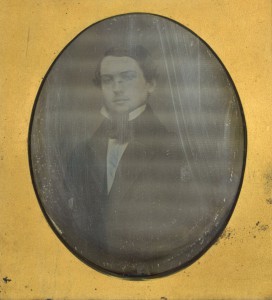 In 1855, Gilbert Beeckman was a "Wholesale dealer in foreign merchandise, [on] Broadway" in New York City, worth an estimated $150,000.[1] Trow's New York City Directory for 1857 lists Gilb't L. Beeckman, drygoods, at 48 Broadway, with a residence at 58 West Eleventh Street. (He was also a partner in Bowers, Beeckman, & Bradford, Jr., at 82 Vesey Street.) The 1870 Federal Census lists Gilbert L. Beekman [sic], 45, dry goods merchant, living in the Fifteenth Ward of Manhattan with his wife Margaret, 38, and their surviving children Catherine, 15; Helen, 12; Daisy, 9; Martha, 7; and Robert L., 4.[2]
My great-great-grandfather died in 1874, or in the year after the Wall Street crash of 1873; family legend has it that my great-grandparents, the children of financially ruined fathers, had to wait several years to marry, as they finally did in January 1885. In the meantime, Mrs. G. L. Beeckman retired to Newport, Rhode Island, near the summer home of her eldest daughter, Katharine Livingston Beeckman (1855–1941), who had married Louis Lasher Lorillard in 1874. (I suspect that Uncle Louis aided his wife's family until the younger daughters married: Aunt Helen wed William Pratt Lyman in 1886, a year after my great-grandmother Daisy married Campbell Steward, while Aunt Mattie waited until 1914 to marry Amos Tuck French.) By 1897, my great-great-grandmother was financially sound enough to travel abroad: she appears in the New York Passenger Lists, 1820-1957, database on board the S.S. Teutonic as Mrs. Beeckman, 65, "Lady," destined for Boston[3]; the ship sailed from Liverpool and Queenstown, and arrived at the Port of New York on 9 June.
While the Beeckman surname died out with my great-great-uncle Robert Livingston Beeckman (1866–1935), who married twice but had no children of his own, the names Gilbert, Livingston, and Margaret have all been used with some frequency in the family of my great-grandmother, Margaret Atherton (Beeckman) Steward: she named her elder daughter Margaret Atherton Steward and her second son Gilbert Livingston Steward. In our branch, my uncle and first cousin were named Gilbert Livingston Steward, my eldest sister is named Margaret, and another one of my first cousins has the middle name Livingston. Among the descendants of my great-aunt Katherine Elizabeth (Steward) Johnson (1889–1969), the names Margaret and Livingston have also been used, all in distant recollection of this serious young couple, who married in 1851!
Continued here.
Notes
[1] The Wealth and Biography of the Wealthy Citizens of the City of New York (1855), p. 10.
[2] 1870 Federal Census, M593_994, p. 532.
[3] Helen and William Lyman lived in Nahant, Massachusetts.