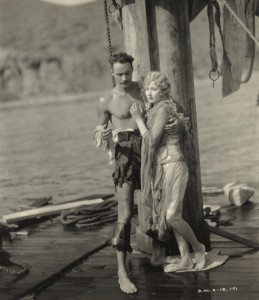 I recently bid on a photograph associated with a 1938 Cecil B. DeMille film called The Buccaneer, and noticed that the seller identified the man in the picture – the actor Fredric March (1897–1975) – but not the woman: a search at The Internet Movie Database (IMDb) suggested that she was the Hungarian actress Franciska Gaal (1904–1973). In the end, I won the auction, and when I went to pay the seller I started thinking about Miss Gaal's hair – which led me on an internet search that revealed that the actress, the actor, and the film were not quite what they seemed.
Miss Gaal (as I must still call her) is clad in fetching chiffon rags as she clings to her suitor, but her hair, with its marcelled waves and generally fluffiness, hints that the photo belongs to the 1920s. I was also bothered by her protector, Mr. March, as he didn't match my recollection of Fredric March's features.
Since the photo was coded as a DeMille production (D.M. 2–10, 191), I looked at DeMille's filmography at IMDb, keeping my focus on the decade between 1920 and 1930. As a producer, he was associated with a film called The Cruise of the Jasper B. (1926) starring Rod La Rocque (1898–1969) and Mildred Harris (1901–1944), better known by her married name of Mrs. Charles Chaplin between 1918 and 1921.
I was embarrassed to recognize "Fredric March" as Rod La Rocque, as I already had photos of La Rocque and his future wife, Vilma Bánky (1898–1991), perhaps best known for appearing opposite Rudolph Valentino in The Son of the Sheik and Ronald Colman and Gary Cooper in The Winning of Barbara Worth (both in 1926). While I knew of Mildred Harris from the stories of Chaplin's tumultuous private life, I did not recognize her from this photo. Still, DeMille and La Rocque's presence in the photo suggested that I was on the right track. A Google search soon led me to a poster for The Cruise of the Jasper B., in which La Rocque and Harris embrace on the deck of the foundering Jasper B. – et voilà!
In the end, I bought a photo from 1926 rather than 1938, one that features Rod La Rocque instead of Fredric March and Mildred Harris rather than Franciska Gaal. Happy as I would be in either case, as I do like the photo itself, the additional research clarifying the date of the picture has given me the satisfaction of learning more about DeMille's career and more about Mrs. Chaplin – and all because Mildred Harris's hairstyle didn't seem quite right!