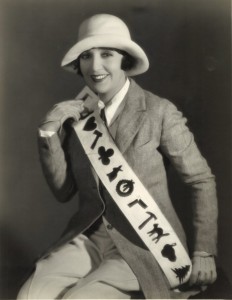 In my last post on photographs, I wrote about three unknown subjects who sat for some of the leading Hollywood photographers of the day, and readers weighed in with suggestions about who these men might be as well as where to look for answers as to their identity. In today's post, I wanted to try something a little different, especially as I could use a photo I've been longing to show off: these two photos, again taken by well-known photographers of the early sound era, show three film stars doing a bit of modeling for their studios.
The first, at left, shows one of the stars of The Stolen Jools (1931) – as well as The Maltese Falcon (1931) and 42nd Street (1933) – wearing a sash representing all the holidays of the year. If I am reading the iconography correctly, between Memorial Day (a mourning wreath) and Labor Day (a hammer) falls Independence Day, represented by something that looks like a boomerang but is perhaps a lit fire cracker. In any case, our film star is shown here in part to mark the 4th of July holiday, which we will celebrate on Saturday.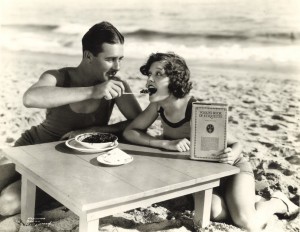 So who is this attractive young woman, a stand-in for a year's worth of holidays? Well, she was married to the man in my second photograph, with whom she appeared in The Stolen Jools; he is probably best known for roles in Hell's Angels (1930) and Night Nurse (1931). With him, in a "candid" beach shot promoting Vogue's Book of Etiquette (and breaking, presumably, all the book's rules) is the young actress whom, following the death of his actress wife (see above), our leading man married in 1972. She starred in Rebecca of Sunnybrook Farm (1932) and Tango (1936), among other films.
To recap: the young man in modest beach attire was at one time married to the actress wearing the sash; then, decades after the beach photo session, he married the young woman he can be seen feeding blueberries with a knife.
Who are they?[1]
And to encourage guesses, the first reader to respond with the three actors' names will receive an NEHGS cup plate; two others will get a set of our book markers.
Note
[1] A hint: all three can be found at The Internet Movie Database (IMDb).