As the Supreme Court announces its decision in Obergefell v. Hodges relating to recognition of same-sex marriage nationally, I am reminded of how nineteenth-century judicial cases became relevant to the marriage equality cases of the last twelve years. While dozens of cases and laws relating to same-sex marriage have been discussed since 2003, the primary catalyst was the landmark Massachusetts case of Goodridge v. Dept. of Public Health, which found that same-sex couples had the right to marry in the Bay State. Marriages began on 17 May 2004, but our then-Governor Mitt Romney seized upon a 1913 state law (the Uniform Marriage Evasion Act), which stated:
Section 11. No marriage shall be contracted in this commonwealth by a party residing and intending to continue to reside in another jurisdiction if such marriage would be void if contracted in such other jurisdiction, and every marriage contracted in this commonwealth in violation hereof shall be null and void. Mass. Gen. L. ch. 207, § 11 (2005).
This law (which would be repealed in 2008) had its roots in the "anti-miscegenation" laws prohibiting white and black couples from marrying which were in force in 60% of the states at the time. While Massachusetts had allowed interracial marriage since 1843, this law aimed to prevent couples from coming to Massachusetts to legally marry and have their marriage recognized in a jurisdiction where such a marriage was illegal.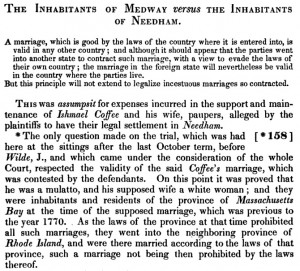 While this law did not affect interracial couples living in Massachusetts, the law essentially overturned the state precedent set in an 1819 case called The Inhabitants of Medway v. The Inhabitants of Needham. The case regarded the legality of the marriage between Ishmael Coffee and Hannah Gay. Coffee, described as mulatto, and Gay, described as white, were residents of Medway in 1768 where they made intentions to marry. However, such a marriage was then illegal in Massachusetts, so they married in Rhode Island where interracial marriages were legal. Years later the couple moved to nearby Needham, and as paupers needed support of the town. The case regarded compensation of the moneys spent by one of the towns and in the process the legality of their marriage was questioned. This 1819 case declared that while their marriage would have been illegal if performed in Massachusetts, since the couple married in Rhode Island where it was legal, the marriage should be recognized in Massachusetts.
The Coffee case is filled with useful genealogical information. Ishmael and Hannah (Gay) Coffee had seventeen children, and many of their descendants moved to Worcester County, Massachusetts, and Windham County, Connecticut. I relate to all of Ishmael and Hannah's descendants through Hannah's great-great-great-grandparents John1 and Joanna (Hooker) Gay of Dedham, and I grew up with several of their descendants in northeastern Connecticut. The Coffees' descendants married people of Native American, African American, and European descent, and many are today members of the Nipmuc Nation.
The 1789 marriage of Ishmael and Hannah's daughter Roba and Christopher Vickers was also challenged in an 1810 court case known as Medway v. Natick, which ruled, among other things, on the definition of the word "mulatto," a case that was even referred to in personal correspondence between former president Thomas Jefferson and  Francis C. Gray on racial definitions. Medway v. Natick is also filled with substantial genealogical information, and both cases help fill in material on a migrant interracial family in early-nineteenth-century Massachusetts left out of many traditional New England records. As Ishmael's father, Jupiter Coffee, a former slave, was born in the early eighteenth century, I've enjoyed tracing thousands of descendants of such an early African-American to the present day.
While the circumstances of the 1819 case differ from those of the 1913 law (in that the 1819 case pertained to a Massachusetts couple marrying elsewhere, while the 1913 law pertained to out of state couples marrying in Massachusetts), the 1819 law said marriages legal in one state should be recognized in Massachusetts, and now in 2015 we see a similar ruling affecting marriages across the country.
Notes
Also see Eldon Wilson Gay and Christopher Challender Child, "Joanna Hooker, wife of John1 Borden and John1 Gay," Register 164 [2010]: 114-20.
Coffee and Vickers descendant and NEHGS member Cheryl Stedtler was featured in a video made by AmericanAncestors.org, in conjunction with FamilySearch.org, discussing her search for her Native American ancestors.