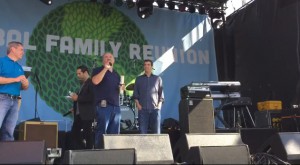 ‪What an amazing opportunity it was to be part of the historic Global Family Reunion held in Queens, New York, on June 6, 2015, where I had the chance to meet NEHGS members, longtime friends and colleagues in the field of genealogy, and more than 3,500 new "cousins"!
‪The day started out grey and the ground was wet from previous days of rain. This did not dampen the spirits of countless "cousins" visiting the vendor tents of Findmypast, FamilySearch, Geni, and MyHeritage. Starting in the morning and throughout the late afternoon, countless familiar names in the field of genealogy lectured and presented on topics from family photographs to complex discussions on DNA research. While attending I had the chance to assist my friend and colleague, Scott Fisher, on and off stage. This allowed me to chat with colleagues who presented, including Dr. Henry Louis Gates Jr., David Rencher, Josh Taylor, Cece Moore, Maureen Taylor, and many others. I was also honored to chat genealogy with TV personalities Ted Allen of Chopped, Marilu Henner from Taxi, singer Lisa Loeb, and the group Sister Sledge, who invited me on stage to dance with them while they sang their hit "We are Family"!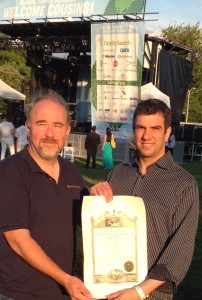 ‪Earlier that day, after participating in the largest family group portrait ever taken, I was on stage again. On behalf of NEHGS, I presented the organizer of this historic event, A. J. Jacobs, with an honorary membership for his efforts in creating the amazing Global Family Reunion.
Later in the day I had a chance to chat with A.J. about the event, and we discussed the importance of family stories and documenting records for future generations. Just then A.J.'s young son came over and hugged him. This young boy was the same age I was when I first got interested in genealogy. I told A.J's son I hope he would someday carry on the tradition started today by his dad. He smiled and shook my hand. I believe many families with children gained a larger sense of family and genealogy at this event. A family tree was planted Saturday in Queens – I hope it grows and grows!