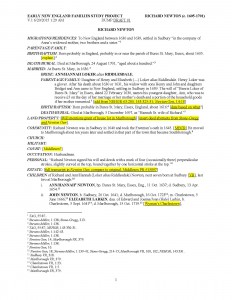 Continuing the series on "Collecting published accounts" that began here and continued here:
As I collect enough sources, I will begin a "Dump Draft." (The accompanying illustration shows a partially completed first Dump Draft for Richard Newton.) The goal of the Dump Draft is to get the information on paper in the Early New England Families Study Project format. This allows me to see exactly what I have and what I need. I add and highlight all kinds of notes and questions to myself.
Footnote spaces are created for every fact, even if they are left blank for the time being. When I make a citation at this stage, I only use the short form because much more material will be added over multiple revisions, and I will only enter the full citation once I know where it is first used.
With this rough map in hand, I continue to expand my search for sources beyond those listed by Torrey. I see that I need to access Middlesex County records – deeds, probate, and court.  Although these records have been transcribed or abstracted in the Newton Genealogy, I want to assess them, myself, for completeness and accuracy. Fortunately, for Middlesex County, the digital versions of the probate and court records are on americanancestors.org, and the deeds are available at familysearch.org.
Richard Newton's probate file has only one document – his neatly scripted will, obviously written by someone else as it is signed by Richard with his mark. I download this image into the Newton folder on my computer and open it (I use a program named ACDSee), enlarge sections and print them in landscape on legal paper. Later I will compare these images to the transcript in the Newton Genealogy.
I next search the Middlesex County, MA: Abstracts of Court Records, 1643-1674 database. These abstracts include dates, names and a brief description of each case. Only five hits come up for Richard Newton and a quick look shows that there isn't anything exciting here, mostly signed petitions or bonds, but I print them all for reference later.
Next, over to familysearch.org for Middlesex Deeds. I go to the grantor deed index (first series, 1639 to 1799) and download and print the relevant section for Richard Newton. Six deeds have been abstracted in Newton Genealogy with citations to book and page, so I am able to match these with the index. I confirm that there are no other deeds indexed. I will compare the abstracts to the originals on screen without printing the deeds unless I run into a question. No grantee deeds were abstracted in Newton Genealogy, but I still check the grantee index and confirm that there are none indexed.