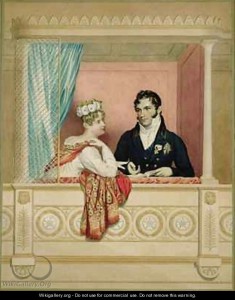 The birth of the new Princess of Cambridge marks the latest addition to the main line of the British royal family: that is, the line closest in succession to the Queen. For their daughter, the Duke and Duchess of Cambridge have chosen a mix of historic family names (Charlotte and Elizabeth) and names hallowed by association (Elizabeth and Diana).
Charlotte: The young princess's most notable predecessors were Charlotte of Mecklenburg-Strelitz (1744–1818), wife of King George III, and her granddaughter, the unhappy Princess Charlotte of Wales (1796–1817). In the way of European royal families, this previous Princess Charlotte was both the first cousin (paternally) and maternal aunt (by marriage) of Queen Victoria, the matriarch of the modern British royal family, from whom Princess Charlotte of Cambridge is twice descended through her paternal great-grandparents, the Queen and the Duke of Edinburgh.
Elizabeth: Elizabeth Woodville (d. 1492), wife of King Edward IV; her daughter Elizabeth of York (1466–1503), wife of King Henry VII; and the latter's granddaughter, Elizabeth I (1533–1603), Queen in her own right, are the most famous of the baby Princess's historic namesakes, but the name Elizabeth is naturally more immediately connected with the current Queen and her mother, Queen Elizabeth the Queen Mother (1900–2002), both of them close to their grandson and great-grandson, Prince William, Duke of Cambridge.
Elizabeth is also the middle name of both the Duchess of Cambridge and her mother, Mrs. Michael Middleton (Carole Goldsmith), and the infant Princess's matrilineal great-great-grandmother was Elizabeth Mary Temple (1903–1991), who died when the Duchess was nine years old.
Diana: The name of the Duke's mother, the late Diana, Princess of Wales (1961–1997). Born Lady Diana Spencer, the Princess was descended from John Russell, 4th Duke of Bedford (1710–1771), whose first wife was an ancestral aunt of hers named . . . Lady Diana Spencer (d. 1735), daughter of the 3rd Earl of Sunderland. (The Princess of Wales descended from the Duchess's brother, the Hon. John Spencer, whose son became the 1st Earl Spencer.)
By the way, the last Princess of Cambridge, born in 1833, is the baby princess's paternal great-great-great-great-grandmother, as Princess Mary Adelaide of Cambridge (d. 1897) married the Duke of Teck; their daughter Princess Mary (1867–1953) married King George V; their son King George VI (1895–1952) married Lady Elizabeth Bowes-Lyon, and they in turn were the parents of Queen Elizabeth II, Princess Charlotte's great-grandmother.
Notes
For more information on the historic and modern British royal families, consult Gerald Paget, The Lineage and Ancestry of H.R.H. Prince Charles, Prince of Wales, 2 vols. (1977), and David Williamson, Debrett's Kings and Queens of Britain (1986). For information on Lady Diana Spencer, see Richard K. Evans, The Ancestry of Diana, Princess of Wales, for Twelve Generations (2007). For information on Catherine Middleton, see William Addams Reitwiesner, The Ancestry of Catherine Middleton (2011).