A century ago today, on 7 May 1915, the Cunard liner R.M.S. Lusitania was reaching the end of her latest transatlantic voyage. The Lusitania left New York on 1 May with 1,266 passengers and 696 crew on board, bound for Liverpool in England. While steaming eleven miles off the Old Head of Kinsale in Ireland, the vessel crossed the path of German U-boat U-20. The launch of a single torpedo into the hull of the Lusitania claimed the lives of 1,198 passengers and crew, leaving 761 survivors of an incident that lasted only eighteen minutes. Even though American lives were lost, it would be nearly two years before America entered the First World War in April 1917.
Among the Lusitania passengers lost a century ago was NEHGS member Lothrop Withington, a genealogist and historian born in Newbury, Massachusetts 31 January 1856. At NEHGS we have a few of his publications in our collection, including his contributions to Henry Fitz-Gilbert Waters's popular Genealogical Gleanings in England, and Virginia Gleanings in England: Abstracts of 17th and 18th-Century English Wills and Administrations relating to Virginia and Virginians, which is a consolidation of Withington's articles in The Virginia Magazine of History and Biography.
The Society has another connection with Withington and the loss of the Lusitania. The site of the NEHGS headquarters at 99–101 Newbury Street was originally two separate houses built in the late nineteenth century. The 1886 edition of The Boston Blue Book lists Boston bookseller Charles E. Lauriat (Sr.) (1842–1920) at 101 Newbury Street. Lauriat was the founder and namesake of the well-known bookstore chain, which remained in business for 127 years until it closed in 1999. Also living in the house where NEHGS now stands was Lauriat's twelve-year-old son Charles E. Lauriat Jr. (1874–1937), who later travelled with his friend Withington on the Lusitania; he would be one of the lucky survivors in 1915.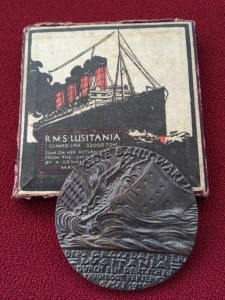 Lauriat went on to publish his own account of the sinking in a book titled The Lusitania's Last Voyage (Boston: Houghton Mifflin Co., 1915). It is a strange twist that the site of Lauriat's boyhood home would later be the home of NEHGS. A memorial to Withington's genealogical pursuits was published in the Proceedings of The New England Historical and Genealogical Register 70 [1916]: 70: xliii.
Today I hope you will join me in remembering those who perished this day a century ago. To learn more details about the Lusitania, her passengers, and her crew, I suggest visiting http://www.rmslusitania.info/; http://www.lusitania.net/; and the Facebook group https://www.facebook.com/TheLusitaniaResource.