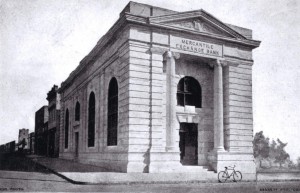 During my recent sabbatical, I made a visit to Jacksonville, Florida, to see one of my great-grandfather's earliest commissions, the 1902 Mercantile Exchange Bank (today the Old Florida National – or Marble – Bank). I reached Jacksonville during a torrential downpour, although the skies cleared (briefly), allowing me to take photos of the building as it stands today.
The Engineering Record of 14 December 1901 announced that "E. H. Glidden is stated to be preparing plans for a building for the Mercantile Exchange Bank, to be erected on Forsyth and Laura Sts." in Jacksonville.[1] The bulk of Glidden's projects were in Maryland, with one or two in the District of Columbia, Virginia, Pennsylvania, and Ohio, so it is interesting to see him at the outset of his career not only designing a building in Jacksonville but renting a house and taking an office there to oversee the project. His first two children – Edward Hughes Glidden Jr. (1901–1975) and Pauline Glidden (1903–1968) – were born in Baltimore, more or less bookending the Mercantile Exchange Bank project, but it appears that both could as easily have been born in Florida as in Maryland.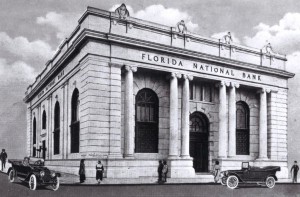 The Mercantile Exchange Bank went through ownership changes and was reborn the Florida National Bank (although the 1902 building is called the Jacksonville National Bank on its local Historic Landmarks Commission plaque). It looks to me as if Glidden was retained to make alterations to the bank building, since the enlarged structure elegantly expands the earlier section, but that is just my supposition – I have been unable to find further references to the bank's reconstruction, and the Historic Landmarks Commission plaque credits him with just the 1902 design.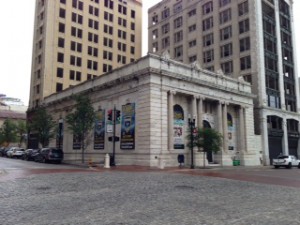 In 1901, Jacksonville's downtown area was ravaged by fire, so the Mercantile Exchange–Florida National Bank Building – and two later skyscrapers, making up the "Laura Street Trio" – was part of a large-scale effort to rebuild the city center. Today, the Laura Street Trio stands empty, and though the neighborhood seems relatively energetic, the real business district has shifted away from Forsyth Street. While it is true that many of E. H. Glidden's Baltimore commissions survive – including the National Marine Bank (1904) – it is also true that the Rochambeau Apartments (Baltimore, 1905) were recently demolished, and I worry that the Marble Bank and its neighbors may also be candidates for the wreckers' ball.
Note
[1] At that date Edward Hughes Glidden (1873–1924) was credited with only the Mount Royal Apartments in Baltimore (1900), although he had already been elected an associate member of the Maryland branch of the American Institute of Architects. He competed for other bank commissions, but remains best known for his apartment houses in Baltimore City and County.