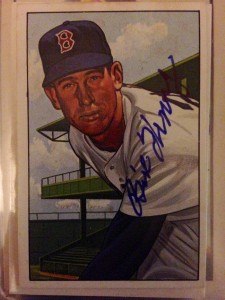 Ever since I was a child, I've loved baseball. My father would tell me stories about his own childhood, recalling Ted Williams batting at Boston's Fenway Park, and Warren Spahn pitching at the former Boston Braves field. My father's idols, they became mine. At age 12, I started researching baseball old timers and Hall of Famers—and then started writing letters to the players of the 1910s to 1930s. I wrote almost a dozen times to "Smoky" Joe Wood (1889–1985), the last surviving member of the team that christened Fenway Park in 1912 and won the World Series the same year. Each time I received a letter back, it contained answers to my questions about Smoky Joe's playing days, as well as a signed piece of baseball memorabilia I had sent him.
Years earlier, I had become interested in genealogy. Though I have never found a professional baseball player in my own family tree, I have found a way to mesh my two interests. In the 1990s I started doing genealogical research on "lost baseball players" for the Society of American Baseball Research. One "lost" player was one of the first nineteenth-century French Canadian baseball players, Simeon Henry Jean "Sam" LaRoque. Through resources at NEHGS I determined that he was born at Saint-Mathias-sur-Richelieu, Quebec, in 1863, and that he died in Highland Park, Michigan, in 1933. I found his son's Canadian Border Crossing card, on which he stated that he was crossing the border to visit his father's grave in Detroit, Michigan.
In 2007 I received the sad news of the death in Florida of Bill Henry, a former 1950s Boston Red Sox player whom my dad had idolized. Now one more teammate of Ted Williams, Dom DiMaggio, and Johnny Pesky was in the Field of Dreams—yet my genealogical instincts were telling me something was fishy. What was wrong was the place of death. Bill didn't live in Florida; I knew, from previous correspondence, that he lived in Texas. Never one to be shy, I picked up the telephone and called his house. I discovered Bill did not know he had been a victim of identity theft; it was someone claiming to be him who had died.[1] I had the honor of corresponding and chatting many times with the real William Rodman "Bill" Henry before he passed in April 2014.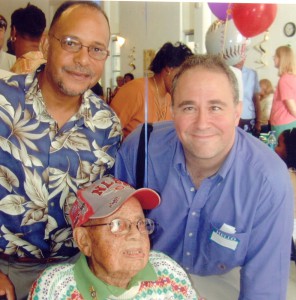 Many Negro League players disappeared from notice after their playing days. In 2005, while assisting Larry Lester, a historian of Negro League Baseball, I found one such missing player, Silas Joseph "Si" Simmons. A native of Delaware, Si played for the Homestead Grays (1913), Germantown Blue Ribbons (1915), New York Lincoln Giants (1926), and Cuban Stars (1929). I found Si's World War I Draft Card, which listed his date of birth in 1895, but I could not find a date of death, even after searching a variety of statewide death indexes and the Social Security Death Index. And then, incredibly, I found reference to a man born in 1895 who was still living in St. Petersburg, Florida. It was Si, still alive at 110! I had the honor to be at his 111th birthday party, not long before he died in 2006. He still stands as the longest-living professional baseball player.
Today, as I celebrate the opening day at Fenway Park in Boston, I'll also be thinking of the many old timers who graced the field and who, through their answers to my questions, gave me a more intimate insight into baseball history. And I'll be thinking of Dad, too, of course, who first introduced me to his own boyhood heroes.
Notes
[1] The news of my discovery went national and was featured in a column by Rick Reilly, "The Passing of a Counterfeit Bill" in Sports Illustrated (September 24, 2007).