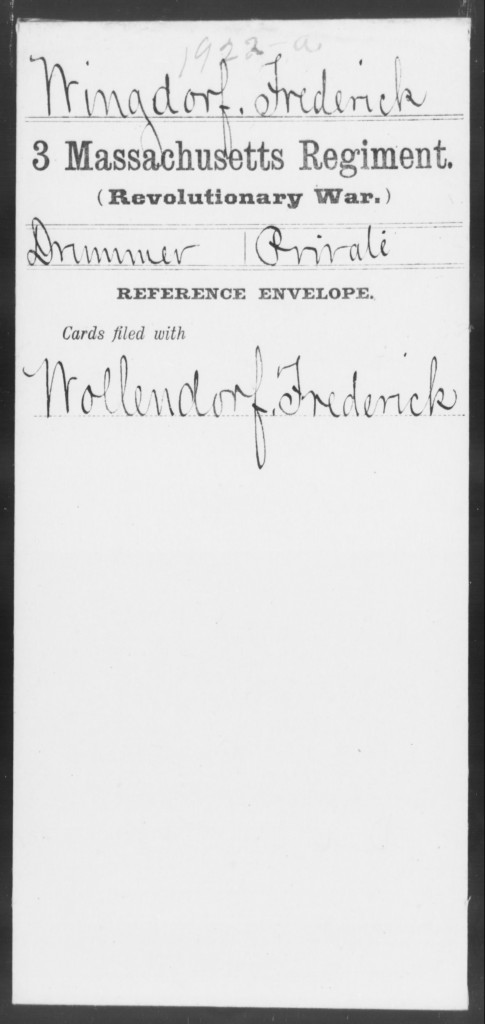 Patriots' Day—the anniversary of the Battles of Lexington and Concord—is fast approaching here in Massachusetts. This particular holiday makes many of us a little reflective. Was my ancestor involved in the American Revolution? If you have ever been curious about that, here are some great resources to jump-start your research.
One of the best places to start looking is Virgil D. White's Index to Revolutionary War Service Records. Available in the NEHGS research library, this particular series is a transcription of the General Index to Compiled Military Service Records of Revolutionary War Soldiers, Sailors, and Members of Army Staff Departments, also known as M860, housed at the National Archives in Washington, D.C. White's transcription lists the rank, regiment, or company of each soldier, and is a fantastic resource because it includes every state of service. Consider yourself lucky if your ancestor had a rare name, such as Frederick Wingdorf. Frederick was a drummer in the 3rd Massachusetts Regiment, and—not surprisingly—was the only Frederick Wingdorf in the index. If you are not so lucky and your ancestors had very common names like Samuel Jones or William Moore or, worse, John Smith, you might need to consult secondary sources to help whittle down the long list of candidates.
Another great source is the National Archives' Compiled Service Records of Soldiers Who Served in the American Army During the Revolutionary War, or M881. This collection consists of muster rolls, payrolls, rations, receipts, and correspondence. If you have an inkling that your ancestor served but was not listed in the General Index to Compiled Military Service Records, try searching these records. The records are at the National Archives, but a free, searchable index of the collection is located on FamilySearch.
Fold3 boasts a comprehensive collection of Revolutionary War records, including service records, muster rolls, and pensions. (There you can also find the above-mentioned records.) This subscription-based site allows you to search for your ancestor by name, or you can browse by record collection or by state and regiment. Browsing records in this fashion is particularly useful if your ancestor's name was spelled different ways. Fold3 will also reveal if your ancestor was mentioned in the records of another soldier. This may be particularly helpful in regard to pension records, in which other soldiers testified to the applicant's military service. Your ancestor's affidavit of support may have chronicled his or her own service as well.
Fold3's pension and bounty land warrants are fantastic resources because these records often include genealogical information regarding the veteran. I like to refer to these records once I have established that an individual did in fact serve in the Revolutionary War. Establishing the state, regiment, or company in which he served will help you distinguish your ancestor's records from others with the same name. Of course, this does not apply if you are looking for Frederick Wingdorf!
The DAR Ancestor Database is another great resource to examine. This database is a list of the Revolutionary War soldiers who members of the Daughters of the American Revolution have joined under. In my opinion, this is a great resource because more often than not, biographical information concerning the soldier is included.
There are also some great state-based resources, too, such as Massachusetts Soldiers and Sailors. NEHGS Chief Genealogist David Allen Lambert has compiled a list of these and other very helpful resources, which were featured in the Summer 2010 edition of American Ancestors, viewable by NEHGS members.
The aforementioned sources are just a few suggestions to help you get your research started. It also important to remember that there is not one, single source to indicate whether your ancestor was a veteran of the Revolutionary War, so you may have to examine several sources. There are so many great sources available that may determine if your ancestor was indeed a veteran of the Revolutionary War. Please feel free to share some sources that you have come across in your research in the comments. Good luck!