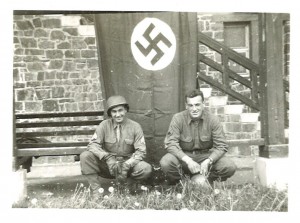 April 11, 2015 is the 70th anniversary of the liberation of Buchenwald concentration camp. In commemoration of this day, the American Jewish Historical Society–New England Archives (AJHS–NEA) is honoring the memory of two men who were present at Buchenwald for the liberation, and whose papers are in our archives.[1]
As an archive with a very specific mission (to collect and preserve the records of the Jewish communities of Greater Boston and New England), AJHS–NEA has many collections that are connected by family relationships. It is generally not surprising to discover friendships, similar community interests, and business partnerships—yet, periodically, I find a connection that is surprising. Such is the link between Herbert Gorfinkle (1923–2000) and Percy Brand (1908–1985), two men who very likely never met, but whose lives briefly intersected during the liberation of Buchenwald.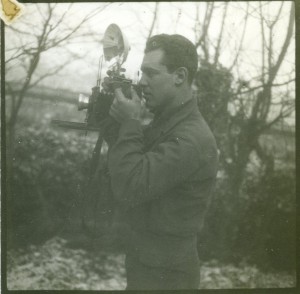 Herbert's Story
Herbert Gorfinkle was born February 15, 1923, the eldest child and only son of Bernard and Frieda (Edinberg) Gorfinkle. Reared in Newton, Massachusetts, he attended private school in Worcester and college in New Hampshire before joining the army in 1943. During training in New Orleans, Herbert faced anti-Semitism within the officer ranks. In a 1944 letter to his father he wrote, "No fooling, Dad, of the seven NCO's five are real Jew haters and one partial, the other too stupid to know. I chum around with them etc. because if I told them what I thought of them I'd be on the 'Blacklist.' They know I'm Jewish but they all think I'm only Part due to their ignorant ideas on what a Jew is supposed to look like and act." Herbert was chastised by his platoon leader for being too much of a gentleman towards the officers in question, but Herbert held firm: "I believe in treating all men like human beings and would do the same thing over again."[2]
In the fall of 1944 Herbert shipped out to London, then to France and Holland, where he was entrenched as an army photographer and Tech 5 combat engineer in an intelligence unit until the winter of 1945. On April 11 of that year, he arrived at Buchenwald with the 9th Armored Infantry Battalion. Herbert, who typically wrote open, guileless letters home, did not mention Buchenwald at all. It was not until two months later, in June, that he began to talk about what he saw: "The people were slaves, in some factories I've seen the chains they used to tie the people to their machines." [3] And on June 20, 1945, after seeing an acquaintance from home, we see another brief mention in a letter home: "He was working in a prison on solitary cells—we have some interesting people there like the doctor who was sterilizing all the people of Europe, the boy whose job it was to execute 3000 people in a month." [4]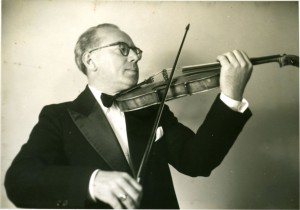 Percy's Story
Whereas Herbert was in the U.S. army at the time of liberation, Peretz "Percy" Brand was a prisoner. Concertmaster of the Latvian Symphony Orchestra in Riga before the Nazi occupation, Percy played violin for Nazi officers at Buchenwald in return for food. "The world's biggest butchers and murderers would get sentimental over the music," Percy said during an interview with the Boston Traveler two decades later.[5] About the liberation he commented, "[T]he Americans, they came so fast, there was not enough time. We didn't dare believe we would be released. No one expected to live through that." [6]
Following liberation and Percy's marriage to Gertrude (Gunja) Lewin, her uncle, Harry Marcus of Boston, worked tirelessly with the Hebrew Immigrant Aid Society of Boston (HIAS) to secure the couple's visas to the United States. Because the Latvian quota was extremely small (only 236 people could emigrate from Latvia annually), the process was slow and incredibly frustrating for Harry, who threatened to take HIAS out of his will if they were unable to expedite the process. In 1949, three years after Harry filed his original affidavit, Percy and Gertrude sailed aboard the Marine Jumper to New York, arriving February 15, 1949.
Percy and Gertrude settled in Brookline, and Percy became well known in Boston for both his talent and the story of survival with his "magic violin."[7] After the war, Herbert returned to the States and, in 1948, earned his MBA from New York University's School of Retailing. He married, founded Edwards Stores of Boston, and settled in Hingham, Massachusetts, with his wife and three daughters. We don't know if Herbert's and Percy's paths intersected again, but I like to think that there was a day when Herbert, either on the radio or in concert, heard Percy play.
Notes
[1] All materials referenced are in the Papers of Herbert Gorfinkle, the Papers of Percy Brand, and the Records of the Hebrew Immigrant Aid Society. To learn more about Jewish Heritage Center and its collections, visit the website.
[2] Letter dated August 6, 1944 from Herbert to his father, Bernard. Herbert heard about his platoon's leader chastisement third-hand, from another Jewish soldier.
[3] Letter dated June 16, 1945 from Herbert to his father. Herbert told Bernard about a book he found at Buchenwald, Europe Works for Germany, with photographs and posters of people skiing and sailing and people of all nationalities rushing to line up to work in Germany. What he saw first-hand belied what he saw in the book, however: "All this wasn't in the book. All through the book I had visions of the photographer being surrounded by armed guards forcing the people to smile, look happy for the pictures."
[4] Letter dated June 20, 1945 from Herbert to his father. Herbert is talking about Harry Friedman, who was in another company about 35 miles away.
[5] Percy was interviewed by George Forsythe in the October 20, 1966 issue of the Boston Traveler, prior to an appearance on Pattern for Living, a local television program.
[6] Percy was referencing the Nazis' failed plan to blow up Buchenwald as the Allies advanced on the camp.
[7] Percy's violin was nicknamed "the magic violin." According to some papers in the collection, it was donated to the United States Holocaust Memorial Museum.