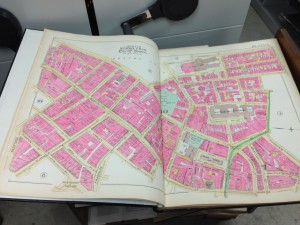 Mrs. Gray's Boston, at least during the 1860s, was one largely arrayed around the Common. Her friends lived in houses stretching from Beacon Hill (Beacon, Bowdoin, Chestnut, Hancock, and Mount Vernon Streets) down Park Street to a long line of houses, all long-since demolished, on Tremont Street, thence along Boylston Street to the new Back Bay, with a focus on Arlington Street and Commonwealth Avenue, not to mention (again) Beacon Street. Her sewing circle sometimes met in Chester Square, in the South End, but Mrs. Gray was apt to leapfrog the Back Bay development to her numerous friends living in Roxbury, or perhaps in the country in Dorchester and Brookline.
I recently spent two afternoons looking for traces of the places Mrs. Gray describes in her diary. Dr. and Mrs. F. H. Gray lived at 61 Bowdoin Street, in a house pulled down to make way for the State House expansion, but much of the action in the diary takes place on Mount Vernon Street, as Dr. Gray's mother lived at No. 22 and his brother William at No. 20.
These Gray houses have also been torn down, replaced by an apartment house, but standing in front of the site one can look along the rear of the State House to the corner of Bowdoin and Mount Vernon Streets, and thus at the frontage of the F. H. Gray house.
It was after I stopped in at NEHGS, to check our map collection and other online resources, that I found that some of my assumptions about the configuration of the Gray house were erroneous. In Mrs. Gray's day, Mount Vernon Street actually began at the corner of Beacon Street, wrapping around one side of the State House – this might explain the numbering of the street's "odd" and "even" sides, since 20 and 22 Mount Vernon are nearly opposite Mrs. Gray's friend Mrs. Harrison Gray Otis at No. 41.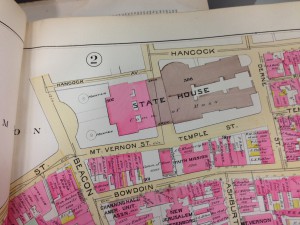 Mrs. Gray's house, 61 Bowdoin Street, is described as having an "entrance in Beacon Hill Place," and the 1867 Bromley map shows this. Beacon Hill Place was a pedestrian walkway, with four houses facing it: 65 Bowdoin Street and 1, 2, and 3 Beacon Hill Place. No. 1 was the Gray house, although this nomenclature does not appear to have been used by the Gray family.
I was able to photograph the 1890 Bromley map for Beacon Hill, in the Society's collection, which shows that 1 and 2 Beacon Hill Place had by then become the Faith Mission; 65 Bowdoin Street belonged to the Commonwealth of Massachusetts, a harbinger of the continuing development that would one day sweep away 1–6 Mount Vernon Street and 51–65 Bowdoin Street, along with a block of Temple Street.
But if these addresses, familiar to Mrs. Gray, no longer exist, the diarist would still recognize the Samuel F. Coolidge house at 1 Chestnut Street, the home of her friend Mary Sanderson Coolidge (see Women in the Gray diary: Part One); Madam Pratt's house at 85 Mount Vernon Street; and the Rev. Charles Mason's house in Louisburg Square.
These Bromley maps, even if they date from a period after Mrs. Gray's death, help me place many of her friends, as well as the well-worn paths Mrs. Gray took to pay her never-ending round of "calls" on family, friends, and other acquaintances.