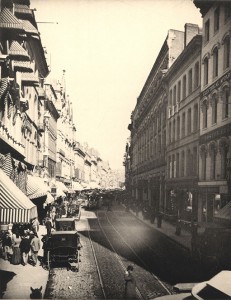 As a librarian at NEHGS, I love stumbling across items in our research library collection that bring the past to life in an unexpected way. I recently had one such happy "stumbling" experience when we discovered a work called Art Work of Boston in our stacks. Part of a larger series of "view books" of American cities published by the W. H. Parish Publishing Company, Art Work of Boston was first published in 1891, in twelve parts. Each volume contains a series of high-quality photographs of buildings, streets, parks, and other public landmarks in the greater Boston area, accompanied by a brief historical text — all of which you can now view through our Digital Library and Archive.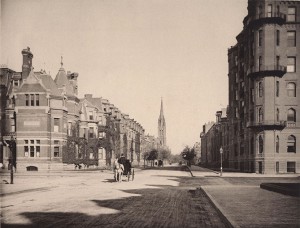 The images in Art Work of Boston provide a vivid window into city life in the late nineteenth century. For me, as someone who lives and works in the Boston area, the images are particularly remarkable for the way they combine well-known landmarks with unfamiliar details that speak to the time when the photographs were taken. In the view of Newbury Street from Dartmouth Street — just a block away from the current location of NEHGS! — familiar buildings contrast startlingly with unpaved streets and a horse-drawn carriage.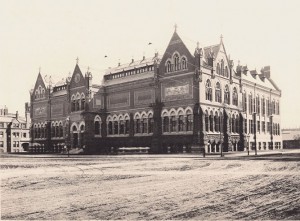 Other images allow us to trace the changing face of local institutions over time. While many of us are familiar with the current appearance of Boston's Museum of Fine Arts — an imposing Beaux Arts building on Huntington Avenue, in the Fenway — a photograph in the book shows the MFA's original home in Copley Square: a gothic revival building designed by John Hubbard Sturgis and Charles Brigham. (The museum did not move into the Huntington Avenue building until 1909, eighteen years after the publication of Art Work of Boston.)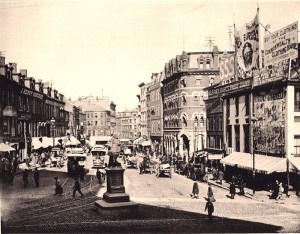 Some photos in the collection depict places that have changed so radically that they are downright unrecognizable. The old commercial center Scollay Square, for example, bustles with activity as horses, people, and carriages share the road. In the early 1960s, Scollay Square was demolished to make way for Government Center, which eventually became home to the modern brutalist architecture of Boston City Hall, City Hall Plaza, and the Government Service Center.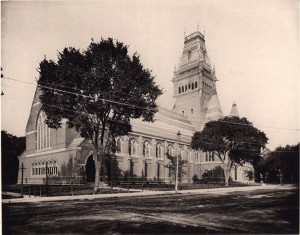 In contrast, other spaces depicted in the collection are remarkable for how little they appear to have changed in the intervening 124 years. A photograph of Harvard's Memorial Hall, in Cambridge, almost looks as if it could have been taken yesterday.
Take your own stroll through late nineteenth-century Boston by leafing through all twelve volumes of Art Work of Boston in the NEHGS Digital Library and Archive.