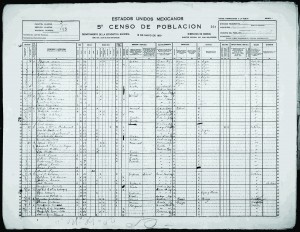 To distract myself from the horrible winter weather that has been thrown at Boston recently, I spent some time trying to research the family of my paternal grandfather, Richard Archibald Brown,[i] in sunny Mexico. This line has been a brick wall. And like many genealogists, I can't help but try again and again, hoping that this will be the time I finally break through.
Rather than just jumping in head first like I had done in the past, I figured it was time to learn the basics of Mexican genealogical research. My first stop was the FamilySearch Research Wiki, which offers guides to family history and research for just about every county in the world. One of the guides that I found the most helpful was the Spanish Genealogical Word List, which is just as it sounds: English translations of numbers, census categories, diseases, occupations, and other words that you may encounter when doing research in a foreign language.
After my crash course on genealogical research in Mexico, I started with the 1930 Mexico National Census and found my ancestors living in Pachuca de Soto, Hidalgo. I did learn a few things I never knew before; for example, I did not know my great-grandfather Frederick Brown was an accountant, or that the entire family, with the exception of Frederick, was Catholic. But I was frustrated that the birthplaces of my grandfather, his siblings, and my great-grandmother were listed simply as "Mexico," when everyone else had a more specific birthplace. I suddenly remembered that my father had once mentioned that my grandfather had been born in a place called Tampico. Thus I decided to look at the civil registrations for that city, which are available online at FamilySearch.org.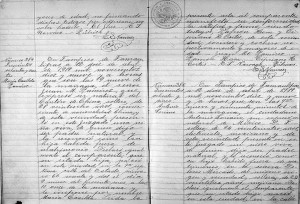 After searching through the registry and not finding my grandfather, I became frustrated and had to take a few laps around the room before I could sit down and continue. Only then did I remember what a co-worker had suggested: since my grandfather was born to a British father and held British citizenship, his birth could have been registered with the British Consulate in Mexico. Wishing I'd remembered that hours earlier, I went online and easily ordered a copy of my grandfather's birth certificate from the British General Register Office.
I'm going to put the research on this part of my family on hold until I receive the birth certificate. I'm hoping it will hold pieces of information that may open up new doors to research on this part of my family. Nonetheless, I'm very happy I've learned some basics of Mexican research and have seen what a goldmine the civil registrations can be. The listings of birth in Tampico are incredibly detailed, including not only the usual information about the birthplace of the child and the names of the child's parents, but also the names of both the maternal and paternal grandparents. As an added bonus, the handwriting—in the Tampico records, at least—was incredibly neat and legible. Although it would have been nice to have had my grandfather's ancestry served to me on a silver platter, I do believe that there is something to be said about the thrill of the hunt. I often find myself giddily racing home to check the mail to see if my grandfather's birth certificate has arrived, hoping that it may be the key to unlocking this particular research challenge.
 Notes
[i]
See "Like father, like son—like daughter?" Vita Brevis, August 15, 2014.