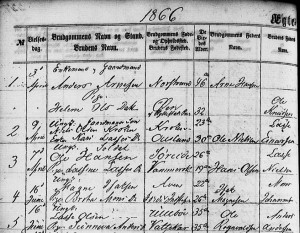 In the years after the American Civil War, an influx of immigrants from Scandinavia settled in the United States. Pushed from their homelands by famine, overpopulation, and lack of economic opportunities, these Swedes, Norwegians, Finns, and Danes poured into the country. In particular, they were drawn to the American Midwest, where large tracts of fertile farmland were abundant. Here they established their own communities, where they spoke their mother language, established their own churches, and even published their own newspapers. Today many Americans can claim Swedish, Norwegian, Finnish, and Danish ancestry. And if you are one of these Americans, you may be apprehensive about researching these ancestors because of the language barrier. Don't be; with the right base of knowledge and a little practice, you'll be well on your way to uncovering your Scandinavian roots.
If you are just starting out, first try to learn as much as you can about your ancestor and his or her life in the United States. Does a marriage or death record reveal a Scandinavian birthplace? When did your ancestor immigrate and did he or she naturalize? Settle near other family members? As with all genealogical research, establishing a strong profile of your ancestor is important.
Next, consult a research guide regarding your specific ancestral country. FamilySearch has many helpful research guides, providing general and specific information for each country. We have some excellent guides here in the NEHGS library, too, which provide information regarding record collections, research strategies, the patronymic naming system, and tips on interpreting church records. They often include lists of key words to aid in deciphering church and census records, too.
Both FamilySearch.org and Ancestry.com have collections of Scandinavian church records, where you can begin the search for your ancestor. But, in my opinion, the best records are housed in each country's national archives. Many repositories have digitized their collections, and here you can search parish registers, census records, land records, emigrations records, and—my all-time favorite— moving in and out records. In Scandinavia, the minister of the parish recorded the movements of each parishioner. Thus in church records you can find not just your ancestor's name, birth date, and date of baptism but also the parish he or she came from or the destination parish. A genealogist's dream!
So don't be hesitant about researching your Swedish, Norwegian, Finnish, or Danish ancestors. Thanks to meticulous parish records, with some preparation and practice you will be able to learn more about your Scandinavian roots.
Resources
The National Archives of Norway
The National Archives of Sweden