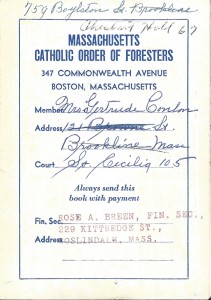 One day while visiting my parents, I looked through some documents that belonged to my maternal grandmother, Gertrude Rose (Breen) Conlon. She lived with my family for two years until her death in 1992, and my mother still has some of her papers. While searching for a copy of my grandmother's marriage record, I came across what appeared to be a bank book. Upon closer examination, I noticed that it was a payment book for my grandmother's account with the Massachusetts Catholic Order of Foresters (MCOF) . I recognized the name of this organization from research I previously conducted on the Irish lines of my family. My great-great-grandfather, James Conlon, was a member of the MCOF until his death in 1934.
In 1879, a group of Irish immigrants founded the Massachusetts Catholic Order of Foresters, which provided life insurance benefits to its members. This organization, whose name was later changed to the Catholic Association of Foresters, is still in existence today. The membership and benefit records of those who died prior to 1942 are available for a fee through the Joseph P. Healey Library, located on the Boston campus of the University of Massachusetts.
Although this organization was founded by Irish immigrants, several branches, or "courts," of the MCOF had a predominantly German membership. When I first learned of these records, I searched the member index to try to locate the names of several ancestors, including those from the German line of my family, namely, my great-great-grandparents, Bernard and Josephine (Miethe) Grueter. I located a listing for James Conlon, an ancestor from an Irish line of my family, but I did not find any entries for Bernard and Josephine. (Since the member index covers only the names of those who died through 1935, I would not have located my grandmother Gertrude's name in this index.)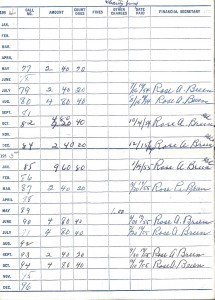 By discovering this payment book, not only did I learn that my grandmother belonged to the MCOF, but I gleaned another interesting piece of information. Listed on the cover of the book is the name and address of the Financial Secretary of the MCOF court where my grandmother was a member: Rose A. Breen of 229 Kittredge Street in Roslindale, Massachusetts. Rose was the mother of my grandmother Gertrude, and the daughter of my great-great-grandparents, Bernard and Josephine (Miethe) Grueter. The name of the MCOF court written on my grandmother's payment book is Saint Cecilia's Court, a chiefly German court located in Boston, Massachusetts. Rose A. (Grueter) Breen died in 1957, so at this time her MCOF records are not accessible. However, discovering the payment book taught me that both my grandmother and great-grandmother had ties to this organization.