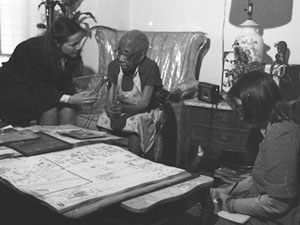 In yesterday's post, I wrote about preparing to interview family members as part of an oral history.
Conducting the Interviews
When selecting family members to interview for your oral history, it is always best to begin with family members who will be comfortable discussing the past and their memories of it; there is a chance that other, less enthusiastic family members will be encouraged to participate after seeing the product of successful interviews.[1]
It is always important to ask a potential subject if they would like to be interviewed well in advance of when you plan to conduct an interview. This will allow them time to think about their family history and also to locate any important information or artifacts they are willing to share.[2] Donald A. Ritchie also advises obtaining legal releases in the event that tapes and transcripts of interviews might be donated to a library, historical society, or other archive.[3]
Ritchie also advocates asking family members not only about pleasant memories, but also engaging in discussions about topics such as feuds or deaths.[4] While these subjects may be helpful to develop a wider picture regarding the history of your family, they are not always necessary and may cause the subject to become uncomfortable, and for this reason, they should only be discussed if the subject is agreeable. The topics you plan to discuss should be considered before conducting the interview. When the time comes to sit down with your relatives and conduct interviews, it is useful to ask questions that are open-ended enough to allow the subject to expand the framework of the discussion, but also specific enough to allow the interviewee to know where to begin. Again, the questionnaire mentioned in yesterday's post is an excellent guide; however, you may wish to tailor the questions to better suit your goals.
The medium you choose for recording an interview can play a significant role in how the interview is eventually utilized. While simply writing responses by hand or even recording audio of an interview is often the simplest method, videotaping the discussions has several benefits. Above all else, video recordings are ideal for preserving an individual's presence and their voice. However, other less obvious benefits must also be considered. One example of such benefits comes from an interview conducted by University of Vermont professor Richard Sweterlitsch, who was conducting an interview about the granite industry in Barre, Vermont, with Sophia Bielli, an Italian-American woman. Sweterlitsch later explained how Bielli spoke with her hands and used her facial expressions and eyes to communicate an intensity that likely would not have translated as well in a simple audio format.[5] The methods of communication employed by the subject must always be considered when determining which format to use.
After the Interview
It is imperative to remember that some relatives may not possess a strong desire to participate in an interview or may have strong feelings regarding particular events or periods, all factors which might have an impact on the outcome of the interview. It is important that you, as a family historian, conduct appropriate background research and interview several family members about similar topics in order to verify any accounts which you feel may present issues.[6] Another thought worthy of consideration is the fact that the information you receive is not just a product of the era being discussed:  it is a product of today.[7] This is not to say that information gathered at a later date is without merit, but is simply a thought to consider, as memories may change over time and shifting opinions and interests may change how one sees the past.
Oral histories are useful to historians not just within your own family, but across society. Historians have taken to studying family histories and first-hand accounts of everyday individuals as a way of understanding how people lived in the past. After conducting interviews and receiving the consent of your subjects, I urge you to consider donating a copy of your work to your local historical society or library, as it may serve other historians well in the years to come.
Notes
[1] Linda Shopes, "Using Oral History for a Family History Project," in David K. Dunaway and Willa K. Baum, eds., Oral History: An Interdisciplinary Anthology (Walnut Creek, Calif.: Altamira, 1996), p. 234.
[2] Ibid.
[3] Donald A. Ritchie, Doing Oral History: A Practical Guide (New York: Oxford University Press, 2003), p. 231.
[4] Ibid., p. 232.
[5] Ibid., p. 134.
[6] Shopes, p. 238.
[7] Ronald J. Grele, Envelopes of Sound: The Art of Oral History (New York: Praeger, 1991), p. 206.