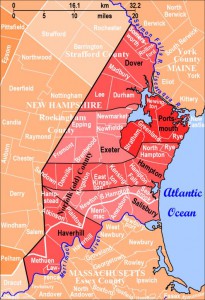 Recently, I was searching for records in Amesbury and Salisbury, as well as in Dover and Newton, New Hampshire. I began my search in Essex County, Massachusetts, but as I went further back in time, I realized that I needed to examine records from "Old Norfolk County."
The first Norfolk County, now called Old Norfolk County, was one of the original four counties created in 1643 in the Massachusetts Bay Colony; the other three counties were Middlesex, Suffolk, and Essex. Old Norfolk County encompassed the area north of the Merrimac River–essentially what is now part of Amesbury, Salisbury, and Haverhill in Massachusetts, and Dover, Hampton, Exeter, and Portsmouth (originally known as Strawberry Banke) in New Hampshire.
In 1679/1680, when New Hampshire became its own province, the northern towns were incorporated into this region. This area is now part of Strafford and Rockingham Counties. Later, in 1680, Amesbury, Salisbury, and Exeter were incorporated into Essex County. However, deeds from these towns were still being added in the old Norfolk County records until 1714.
According to our NEHGS Library Catalog, the Norfolk Deeds microfilm collection "consists of deeds, wills, inventories, etc., 1647-1714, records of the county of Norfolk, in the colony of Massachusetts. These records are of old Norfolk County, which included the towns of Salisbury, Hampton, Haverhill, Exeter, Dover and Strawberry Banke. These towns are now in Essex County, Mass., Rockingham County, N.H. and Strafford County, N.H."
The collection is also available from the Family History Library in Salt Lake City, as "Records of the County of Norfolk, in the Colony of Massachusetts: Index to records 1647-1714 Deeds."
For more extensive information about Old Norfolk County, check out this article, free to members of NEHGS: "The Old Norfolk County Records" by David C. Dearborn, in The Essex Genealogist, 3 [1983]: 194-6.
Understanding the changing boundaries and counties are an essential component when searching for records, and there are many resources providing this kind of information. So remember, some ancestors from Essex County, Massachusetts, and eastern New Hampshire may be found in records of Old Norfolk County.
 Sources
 Michael J. Leclerc, Genealogist's Handbook for New England Research, 5th ed. (New England Historic Genealogical Society, 2012).
www.norfolkcounty.org