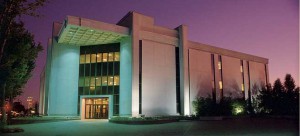 When NEHGS asked me to attend the RootsTech–FGS conference, I was equally overjoyed and anxious. I've never before been to the Family History Library, and I want to be sure to take best advantage of being at one of the world's top genealogical research facilities. I turned to my NEHGS colleagues for advice, and they gave me four great suggestions for my first visit:
Nail down what you want to work on. Researchers can be overwhelmed with the sheer size of the FHL, making them feel like kids in a candy store. Therefore, if you wish to avoid the negative effects of a sugar rush, you should identify specific questions that you want to answer and specific lines or generations that need work. Identify any holes in your research or brick walls that you want to resolve.
Make a priority list. You will most likely have grand plans, but not enough time to accomplish all your goals (and that is okay). Pick questions that are more achievable to start, and move later to your brick walls. Availability of specific resources should influence your priority list. For example, you should make time to research in books first, as FHL does not have interlibrary loan.
Identify FHL resources that can help with your specific research questions. Search the FamilySearch Catalog by place, surname, keyword, title, author, or subject. Once you locate possible microfilms and books of interest, create a spreadsheet or list that identifies the film or call number, the name of the individual (with identifying dates), and the intended record (e.g., the 1752 baptism for Dale Wharton Brown). If you locate a microfilm that is cataloged as "Vault," order it beforehand, as it may take three days to retrieve.
Create an organized research plan. How do you plan to knock down each brick wall? Are you planning to use vital records, church records, land grants, etc.? What records have you already found that pertain to your specific question? Be sure to include previously identified names, dates, and locations with your research plan, to keep you from going back and forth between your compiled research and the FHL resources. If you have a specific FHL resource in mind, jot it down also.
In addition to these research tips, my colleagues suggested a few housekeeping items:
Check the FHL hours. (The library may close early for holidays or stay open later during conferences.)
Bring a water bottle with a cover and lip balm. (Hydration is important at higher altitudes.)
Bring a thumb drive. (The FHL does not charge for scans made using digital readers.)
Bring small bills for photocopies. (The FHL charges 5¢ for b/w and 30¢ for color.)
Bring a laptop and perhaps a computer lock. (Computer use is first come, first served.)
Well, my bags are packed and my research plans complete. Wish me luck on my newest genealogical journey! I'll check back in a few days with a progress report.