The other day, I was discussing genealogy with a friend and she said to me, "So, genealogy is just one big walk down memory lane?" I thought about this, and while I think that genealogy might be more of a drive down the memory interstate highway, I could not get this idea out of my head. I began to think of how some of us like to mosey down memory lane. For some, this might involve looking through old emails or pulling out a memory box. For me, it means flipping through old yearbooks.
I recently discovered that Ancestry.com has a database of United States middle school, high school, and college yearbooks from 1880 to 2012. The database is searchable by names and dates, and it is also browseable by city, state, and school. Although the database is a bit spotty (much to my dad's relief, the yearbooks from his years at the United States Merchant Marine Academy are not yet uploaded), I still found it to be a great resource to help me (literally) put a face to the names in my family history.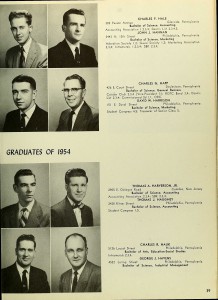 Aside from being able to see one's relatives in their youth, I enjoyed finding the clubs and activities that my family had participated in. For example, in my great-uncle Bill Happ's 1947 senior yearbook from Doylestown High School in Pennsylvania, I saw that he seemed like quite the active person, especially with the basketball team. (As a side note, this is something that seems especially funny to my family since the running joke is that the Happs are all too short to play basketball.) While Uncle Bill's association with basketball came as a surprise to me, finding my grandfather Charles G. Happ's involvement in ROTC band when he graduated from La Salle College in 1954 was completely expected. My grandfather has always been a musical person, often active in multiple bands at any given time.
Something that took me by surprise when looking at a photo of my grandfather when he was a senior in college was the resemblance between him and my 19-year-old cousin, Eric. People have always told me that my mom and I look very similar, but this was the first time that I saw such a direct physical correlation between my generation and my grandfather's generation.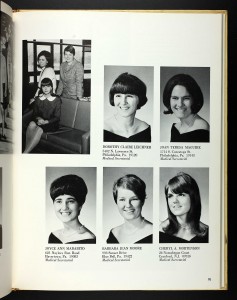 In addition to tracking my family's history (and appearance) through yearbooks, I also found it interesting to track the evolution of yearbooks themselves. In my grandfather's 1954 yearbook from La Salle College, as well as my great-aunt's 1968 yearbook from Gwynedd-Mercy College, their full home addresses can be found listed. My high school yearbook (from 2009) and my college yearbook (from 2013) do not even list my home town, let alone full address. I suppose this is a reflection of an evolution of how we communicate and correspond with each other, from writing letters to finding old classmates on Facebook or other social media outlets.
After searching through yearbooks for a few hours, I came to a realization – although yearbook formats may have changed, one thing hasn't: those cringe-worthy and awkward photos that pop up in every yearbook. For now, I am counting my blessings that Ancestry.com has yet to upload my high school yearbook!