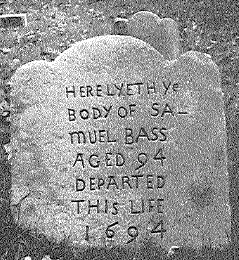 Do you have a common last name whose origin you have always wondered about, such as Lewis, Adams, or Bass? Did you ever wonder if you were related to a famous person with the same surname? A helpful research tip to figure this out is to search for information regarding the first ancestor that you can find in America, and then attempt to find common ancestral lines.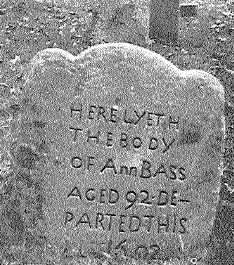 Using Bass as an example, two of the first settlers of the Massachusetts Bay Colony were Samuel Bass and his wife, Ann Saville, who came to Roxbury, Massachusetts, circa 1630. Their names have been found in church records in Roxbury and also in Braintree, Massachusetts. Samuel Bass eventually became a deacon, and their gravestones are still intact within Hancock Cemetery in Quincy, Massachusetts.[1]
Research into the Bass family reveals that there was a man named Perkins Bass, a son of Joel Bass and Cathleen Wright Burnham, and a descendant of Samuel and Ann (Saville) Bass.[2] Perkins Bass was born on 30 April 1827 in Williamsburg, Vermont, raised on a farm, and graduated from Dartmouth College in 1852. He studied law and began practicing in Chicago. Perkins was actively involved in the Chicago educational community, and the Perkins Bass Elementary School in Chicago is still a fixture there. He was a good friend of Abraham Lincoln, for whom he campaigned, and after Lincoln's election in 1860, Perkins Bass was appointed United States District Attorney for Northern Illinois. He went on to have a son, named Robert Perkins Bass, who became the 62nd Governor of New Hampshire and a member of the New Hampshire House of Representatives.
Another famous Bass family member who traces their ancestry back to Samuel and Ann Bass was George Henry Bass, born in Wilton, Maine on 22 July 1843, a son of Seth Bass and Nancy Russell.[3] George Henry, or "G.H." to his friends, founded the Bass Shoe Company in 1876, eventually calling it G.H. Bass and Company. He began with six employees, and the machines were run by hand and foot power. By the time of G.H. Bass's death in 1925, his company was creating 900 pairs of shoes per day, had 160 employees in the factory in Wilton, and was selling shoes all over the world.
Sometimes your ancestry can reveal fascinating information concerning people that you did not know you were related to, such as a governor whose father was a friend of Abraham Lincoln, or the founder of a famous shoe company. A helpful research hint is to find the earliest possible ancestor with that surname, and search for common ancestral lines. You never know what interesting information this tactic can reveal!
Notes
[1] www.findagrave.com.
[2] American Genealogical Research Institute, Bass Family History (Washington, D.C.: Heritage Press, Inc., 1978), p. 71.
[3] Bass, Lizzie E., Jeriah Bass and His Descendants (Augusta, Me.: Kennebec Journal, 1962), p. 120.