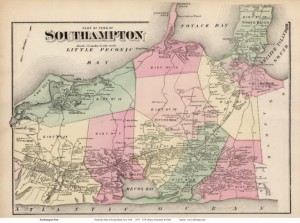 Recently, I was searching for records in the towns of Southampton, Easthampton, and Bridgehampton, all in Suffolk County, New York. I was trying to determine the identity of the father of Abraham C., who was born in 1720 in Southampton and died about 1785. The client had done some excellent research, and through his efforts, concluded that there were two possible outcomes. Since finding direct evidence from records for New York during this time period can be tricky, I examined numerous publications from our NEHGS collection, including town histories, such as the multi-volume series Records of The Town of Southampton, With Other Ancient Documents of Historic Value; published genealogies; and the excellent New York Genealogical and Biographical Record.
I examined microfilm of Southampton cemetery records as well as Easthampton marriage and birth/baptismal records. And, of course, I searched for Abraham C. and his potential fathers in probate and land records. Ultimately, a land record provided a potential connection for Abraham C. The record came from a volume of transcribed records for the period 1717–1807; however, I also needed to locate the original land deed in order to find the exact year of the transaction.
Therefore, I contacted the Town Clerk at the Town of Southampton's Historic Division to see if they had any information pertaining to this deed. The Historic Division was created by the town clerk; it is separate from the Southampton Historical Society. According to its website: "The division maintains the historical records with the town historian leading the effort of researching, recording, obtaining, and preserving the historical documents and archival information contained within the Historic Division." Southampton was the first English colony in what is now New York State, and the town has records beginning in 1640.
I was directed to the Southampton Town Historian, who pointed me to several new and/or updated digitized record collections on their website, such as their historic cemeteries project. He gave me names and suggestions: people to contact at the Hampton Library in Bridgehampton, the Historical Documents Library at the Suffolk County Center in Riverhead, the First Presbyterian Church of Southampton, and the Bridgehampton Presbyterian Church. But even more importantly, he supplied the historical context for my searches, information that is always extremely helpful when searching for genealogical records.
One of the things I learned was that today's Brooklyn Historical Society was originally founded in 1863 as the Long Island Historical Society: an unexpected resource for Southampton research. I'd like to say I found that smoking gun; not yet, but I'm hoping that, through my new sources provided by the Town Historian, I am getting ever closer.