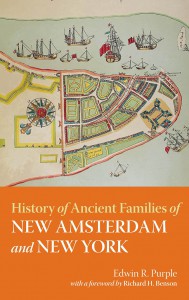 Building on previous posts, which featured books that help with researching ancestors who arrived first in Massachusetts and then moved westward or northward, this entry will look at some resources available to researchers whose ancestors moved to or first arrived in New York. As Henry B. Hoff, Editor of The New England Historical and Genealogical Register, notes in his introduction to the AmericanAncestors.org Research Guide on New York, "Finding information about your New York ancestors can be tricky. The difficulty depends on time, place, and group. Researching Dutch-descended New Yorkers in the Hudson Valley during the eighteenth century is likely to be easy; whereas researching settlers from New England in the same locale may be difficult. And of course the 1911 fire at the State Library in Albany and the fact that statewide registration of vital records did not start until 1880 only adds to the difficulty."
It sounds a little daunting, but don't be discouraged. One resource to start you off is History of Ancient Families of New Amsterdam and New York by Edwin R. Purple, who researched these early families using the records of the New York Dutch Reformed Church as one of his key resources. Most of the book's contents were originally published as Purple's articles for The New York Genealogical and Biographical Record between 1875 and 1879, as he documented the first three or four generations of some of the ancient families of New York.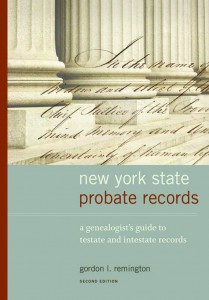 To help you in your quest for original records, Gordon L. Remington compiled New York State Probate Records. According to the author, "What New York State lacks in vital records is more than made up by its probate records. A wealth of genealogical information is contained not only in what are considered 'standard' probate records – wills and administrations – but also in ancillary records, and most importantly, the petition required to probate or to administer an estate after 1830." This book gives the reader information on how and where to access probate records in the province and state of New York.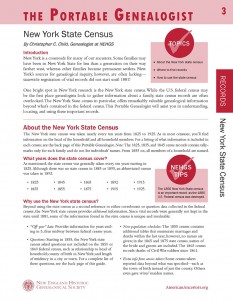 Another bright spot in New York research is the state census, which, according to Christopher C. Child, "offers remarkably valuable genealogical information beyond what's contained in the federal census." Child's New York State Census in the NEHGS Portable Genealogist series is a nice complement to the Probate Records book, as it too gives readers information on finding and understanding records, this time with a focus on the "often-overlooked state census records."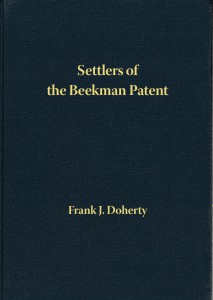 And if your ancestors were part of the eighteenth-century settlement of the Beekman Patent, you're in luck. Frank Doherty Sr.'s Settlers of the Beekman Patent is an eleven-volume work focusing on this Dutchess County land holding granted to Henry Beekman in 1697. With the first European settlers arriving around 1710, the Beekman Patent became a major entry point from New England to New York and the West. The names contained within each volume are included in the descriptions on AmericanAncestors.org.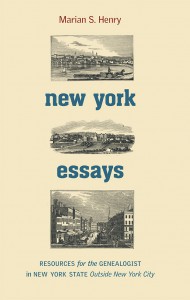 Another book of interest is Marian S. Henry's New York Essays, which contains a series of essays about New York that the author originally wrote for AmericanAncestors.org. Subtitled Resources for the Genealogist in New York State Outside New York City, the collection ranges from how to find primary sources and obtain vital records in New York State to summaries of land purchases and settlements, to stories of specific people and places that give context to the world in which your upstate ancestors lived.
And stay tuned for a new Portable Genealogist from Henry Hoff on Colonial New York Records, expected in Winter 2015!