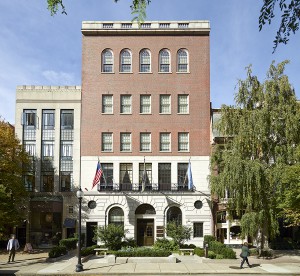 This post marks the 250th blog post at Vita Brevis. To mark the occasion, I have asked some of our peerless contributors for suggestions on the theme of  "jump starting" genealogical research (and publication) for the holidays – with an eye toward 2015!
Consider sending a holiday letter out via email to your relatives. Then print a copy for posterity. – David Allen Lambert
To begin researching your ancestors in Guyana, South America, the best place to start is with the Guyana/British Guiana Genealogical Society, where you will find information regarding vital records, census records, directories, school records, online colonial newspapers, church records and contact information for the Guyana National Archives. – Andrew Krea
Think about starting a family reunion group on Facebook. Invite all your cousins to share stories and photos. – David Allen Lambert
A recent family marriage introduced me to a new cultural group and research avenues to explore it. Thanks to the invention of the cocktail napkin, the wedding reception allowed an opportunity to gather critical pieces of information on the immigrant and his country of origin. I spent the next several weeks discovering that the new German/Prussian ancestor was actually Polish, caught in the ever-changing geographic borders of Europe, as well as Federal Census enumeration instructions that variously classified him as Prussian, German, or Polish.
A real boon to my research was discovering The Poznan Project, which is endeavoring to transcribe 19th century marriage records from historic Greater Poland (then the Prussian Province of Posen/Poznan) into a searchable online database. The Project began in 2000, and as of mid-November 2014 volunteers have indexed 1,163,721 marriages, or about 75% of the region's marriages. The marriage years range from 1800-1899 and the brief transcriptions are offered at no cost.
The records are being transcribed from microfilms obtained from the LDS Family History Library. Familysearch.org has created a Posen Portal page, a helpful consolidation of information on this area, as well as a list of civil jurisdictions. – Helen Herzer
The other day I saw a quote from the fiction writer Neil Gaiman on Facebook: "This is how you do it: you sit down at the keyboard and you put one word after another until it's done. It's that easy, and that hard."
Those words resonated with me because of how often we hear family historians tell us that it's hard to get started. First you have to decide you have enough information, and make the mental shift to stop researching and start writing. Luckily, standard genealogical formats help walk you through getting all the data down. But you do need to sit down and put your fingers on the keyboard and begin! – Penny Stratton
It seems worth repeating: Start with what you know, then, prove it with documentation! Ask family members for information and record it, bearing in mind that even things that do not sound quite right, or which have been treated as family legend, might contain a kernel of truth – which your research might prove. After all, many an article in the Register, the Record, or NGSQ began as a way to tie up loose research ends… – Scott C. Steward