On 14 December 1964, NEHGS opened its doors to members at 99–101 Newbury Street for the very first time. The building on Newbury Street is the Society's seventh home since it was founded in 1845, and this location has served as our headquarters during the greatest period of growth in our history. In the fifty years since arriving in the Back Bay, our membership has increased from 3,000 to an active constituency of more than 70,000; our library print collections have grown from 30,000 volumes to more than 250,000 volumes; and our endowment has improved from approximately $1 million to more than $25 million.
Take a 360 degree tour of 99-101 Newbury Street
Located in a series of different buildings on and about Beacon Hill between 1846 and 1964, the Society's final home on Beacon Hill, 9 Ashburton Place, was purchased in 1911 (and opened in 1913) because the space and adjacent buildings were believed to provide enough room for more than a century of future growth for the organization and collections.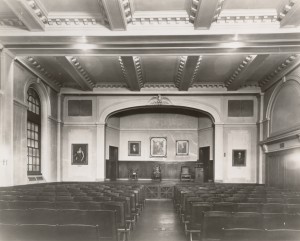 In 1958, amidst planning meetings with government officials about a proposed expansion of the headquarters at Ashburton Place, which already included two distinct libraries, multiple reading rooms, office space, a fine art museum, a 325-seat auditorium, and a patriotic wing that housed offices for the Daughters of the American Revolution, the Sons of the American Revolution, the Society of Colonial Wars, and the Society of Mayflower Descendants, NEHGS leaders learned that the Commonwealth of Massachusetts planned to seize the Society's headquarters by eminent domain in order to build a new state government complex!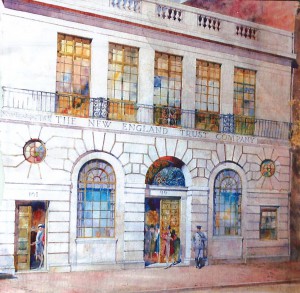 In April 1961, the State formally exercised its right of eminent domain. NEHGS was given several years to find a new home. Four sites were initially considered for the Society's future headquarters: the Boston Medical Library at 8 The Fenway, the old West Church at 131 Cambridge Street, the old New England College of Pharmacy building at 70–72 Mount Vernon Street, and the former offices of the New England Trust Company at 99–101 Newbury Street. After assessing each of the sites, on 6 February 1963 the Society's council voted to move to Newbury Street.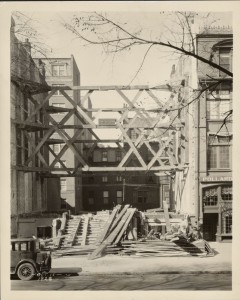 The building at 99–101 Newbury Street was designed by Ralph Coolidge Henry and Henry P. Richmond, successors to the famed architect Guy Lowell. The building was completed in 1928 and served for more than thirty years as a branch of New England Trust Company.
The Society purchased the then three-story building in April 1963 for $175,000 and arranged to have five floors added to the building, bringing the total space to just over 31,000 square feet, which was still less than 50% of the square footage of the Ashburton Place complex. Total cost of acquisition, architectural fees, construction, and moving to Newbury Street was approximately $823,000. The move was partially paid for by the $599,000 eminent domain settlement, which fell far short of the $900,000 fair-market appraisal the Society received on its Ashburton building in 1961.
The growth of NEHGS since 1964 has partially been a function of the rise in the interest in family history, partially a function of technological changes, and most certainly as a result of conscious efforts to provide comprehensive genealogical services. Among the most popular and important aspects of the services that have been added since 1964 include genealogical research seminars and tours, such as "Come Home to New England"; long-term study projects like the Great Migration Study Project; a member magazine; a technology center, first with microfilm readers and then computer stations; an expanded publications division; and a staff with expertise reflective of the varied faces of America.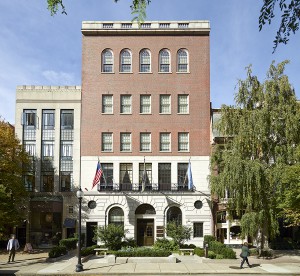 As we celebrate fifty years on Newbury Street and the growth of services to support family historians, we are also poised for our first space expansion since the move from Somerset Street to Ashburton Place in 1913. Our recent acquisition of 97 Newbury Street, a 4,500 square foot brownstone building adjacent to our current headquarters, provides our first opportunity in more than a century to explore, once again, offering an exhibition hall, classrooms, a collaborative space for genealogical and historical partners, and perhaps even an auditorium.
The History of NEHGS Headquarters:
1846–1847:        City Building, Room 9, Court Square
1847–1851:        The Massachusetts Block, First Floor, Court Square
1851–1858:        5 Tremont Street, Third Floor
1858–1871:        13 (later 17) Bromfield Street, Third Floor
1871–1913:        18 Somerset Street
1913–1964:        9 Ashburton Place
1964–present:  99–101 Newbury Street