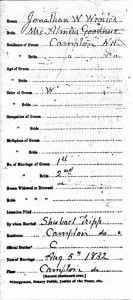 A few months ago, I was searching for a marriage record in our microfilmed collection of New Hampshire Vital Records to 1900. I was able to find the marriage record between Jonathan W. Winter and Almira Goodhue, dated 5 August 1832 at Campton, Grafton County, New Hampshire. However, the marriage record had some information that I was not expecting: that Almira's marriage to Jonathan Winter was her second.
The fact that Almira had been married previously contradicted other information that I had already found. In a land record filed between J.W. Winter, Elmyra B. Winter, and Daniel Goodhue [Jr.] dated 27 March 1848, J.W. Winter and Almira forfeited their share in the estate of a Daniel Goodhue, described as "our late father" in the deed. This indicates that Daniel Goodhue [Sr.] was Almira's father, and that Goodhue would be her maiden name, not a married one. Similarly, census records indicated that Almira was born circa 1816, and therefore would have been only about sixteen years old at the time of her marriage to Jonathan Winter, a little young for her to have been married twice.

As these records offered different and contradictory information, I turned to the original town records of Campton, which we also have on microfilm at NEHGS. The original town record states that Mr. Jonathan W. Winter married Mrs. Almira Goodhue on 5 August 1832; there is no mention of her being a widow, nor is there any indication that she had been previously married, other than the fact she is listed as "Mrs."
There is a common misconception that the prefix "Mrs." on a record automatically signals that a woman has been married previously. An article written by Dale H. Cook on The Plymouth Colony Pages dispels that belief and provides definitions of several other antique usages.
According to the article, "in Colonial times the use of 'Mrs.' in an intention or marriage record did not mean that the bride had previously been married. In those times 'Mrs.' was the feminine equivalent of 'Mr.,' which was originally 'Master,' … signifying a person of some prestige in a community, such as a selectman, a minister, or a militia officer, and abbreviated 'Mr.' The wife (or soon-to-be wife) of a man entitled to be called 'Mister' was sometimes called 'Mistress,' abbreviated 'Mrs.'"
It looks as though, following the town record's use of Mrs., the individual transcribing Almira (Goodhue) Winter's marriage record mistakenly assumed that her marriage to Jonathan Winter was her second. This is an object lesson in preferring the original source to a transcription!
For other commonly used colonial phrases and their interpretation, see Cook's article as well as "Terms of Relationships of Colonial Times," published by George E. McCracken in The American Genealogist (available at americanancestors.org).