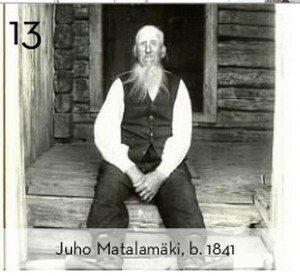 This week I gave a webinar on different ways of sharing family history findings with your family. (It was originally broadcast 18 November 2014.) While preparing for it, I became fascinated by the idea of creating a genealogical photo calendar.
I was inspired by a genealogical wall calendar created by an NEHGS member. Each month's photo is of an ancestor. The blocks for specific days are annotated with genealogical data: specifically, birth and marriage dates of ancestors as well as of living relatives.
For the past few years I've been creating calendars, at Shutterfly.com, for my mother-in-law and for my sister. My mother-in-law gets a wall calendar with a recent photo on each month and all current family birthdays marked. My sister gets a desk calendar with an old family photo for each month. Looking at the wall calendar, it occurred to me: I could do a calendar just like his. All I have to do is choose twelve family photos, one for each month, and then "populate" a calendar with ancestral birth and marriage dates.
Because I've used Shutterfly in the past, I turned there to make a start. I chose a basic calendar template. "Drag a photo to any date to mark a special event," I read. Stored at Shutterfly already, from my past calendars, is a great photo of my great-grandfather, Juho Matalamäki. I looked up Juho's  birthdate: 13 August 1841. I selected the month of August, and dragged the photo to the 13th. There it stuck! Then I double-clicked the date, and up popped a window to add text. "Juho Matalamäki, b. 1841." Voila. One down.
Excited by that success, I knew it was time to become more methodical. I chose a focus for the calendar – both my and my husband's families, back three generations – and uploaded additional photos to have on hand. Then I made a list of all the relevant birth and marriage dates.
I turned to January to start. The 28th: my mother, Pearl Isaacson, born in 1912. I dragged in a photo of the whole family, concerned that everyone would look really tiny in the square. But I discovered that Shutterfly will help me edit the photo first, so I cropped everyone else out. There's Mom's sweet face, all by herself, on her birthday.
Shutterfly is only one of many companies that will help you make photo calendars (and books, for that matter). Others include Mixprint, Snapfish, and Vistaprint. Just search for "photo calendars" in your browser and see what turns up.
In the meantime, I'm on a roll. And I sure hope my kids enjoy their holiday present!