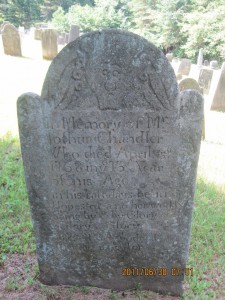 Sometimes, the most interesting stories are found when you weren't looking for them, as in the following example. I was searching for a simple marriage record in the town of Woodstock, Connecticut. While I eventually found the record I was seeking, what I noticed immediately above that record was a series of intriguing entries. The records read as follows[1]:
1. "Chandler, Elizabeth, was requested Nov. 11, 1743 to make a public confession"
2. "Her letter of conf. was read at ch. meeting Nov. 25, 1743 and considered 'very impertinent'"
3. "Was voted at ch. meeting Mar. 2, 1743/4 that her 'affair' be suspended, she having consulted with Rev. Mr. Mosley of Canada"
4. "Was censured at ch. meeting Oct. 8, 1744 for the letter she sent to the church by Samuel Chamberlin"
5. "Was directed Jan. 3, 1745 at ch. meeting that she advise the church of her desire to repent"
6. "Was voted at ch. meeting Mar. 24, 1744/5 that her letter to the church was not satisfactory"
7. "Conf. and pardoned July 6, 1746"
From November 1743 until July 1746, Elizabeth (Cutler) Chandler engaged in a drawn-out struggle to regain the acceptance of her church in Woodstock. What did Elizabeth do to warrant the rejection of her peers and fellow church members?
Further research revealed that at the church meeting on 11 November 1743, it was voted that Elizabeth Chandler would be restored to communion with the church if she made a public confession which stated: "Whereas, for sundry times absented from public worship and also from the Lord's supper."
Nearly a year later, on 8 October 1744, it was stated that the contents of a paper signed by Elizabeth Chandler (both the letter of confession and the discourse with Mosley) were "impertinent, trifling, and in no measure satisfactory."[2]  This would prolong Chandler's alienation from the church for some time.
On 6 July 1746, as the records indicated, Elizabeth Chandler confessed to absenting from worship and was pardoned by the church. However, the saga of Elizabeth Chandler does not end there. The key to these machinations is only found in 1749, in the Woodstock vital records[3]: "Elizabeth [Chandler], having joined the Anabaptists watch withdrawn, Mar. 16, 1748/9."
While Elizabeth Chandler had initially been at odds with the church over her absenteeism from services, her decision to join the Anabaptists, a religious sect frequently persecuted by both Catholics and Protestants, only enhanced these differences. Unfortunately, given the scarce records of Elizabeth's conflicts with the church, we cannot know more sure how much of the church's opposition was related to her absenteeism and how much was a product of her religious shift.
Another 1749 document states that "whereas Ebenezer Chapman and his wife and Elizabeth Chandler (wife of Joshua) members of this church have heretofore renounced communion with this church and also with the established churches in this land; and have lately joyned [sic] with that sect or denomination called Anabaptists (at least so far as to renounce their infant baptisms and to be re-baptized by plunging) it is our opinion that their special relation to us is now at an end, and that we are no longer obliged to inspect or watch over them as members of this church."
This ruling leaves historians with more questions than answers. While both Ebenezer Chapman and his wife renounced their baptisms and joined the Anabaptists, there is no indication that Elizabeth's husband Joshua Chandler did the same. How did this affect their marriage and Joshua's standing within the community? Joshua had been admitted to the church in Woodstock with full communion on 4 August 1728, and there are no records to show that his church membership was ever revoked.
Furthermore, Elizabeth and Joshua remained married until his death on 15 April 1768, as he leaves all of his household goods to "Elizabeth, my wife" in his will dated 13 September 1767.[4]  When Elizabeth Chandler died on 8 February 1785, at the age of 81, she was buried in Bungay Cemetery in West Woodstock near her husband Joshua.
Unfortunately, it seems that much of the story of the lives of Joshua Chandler and his wife after Elizabeth's renunciation by the church is lost to history. Despite their differences in religious beliefs, both Joshua and Elizabeth Chandler were buried with gravestones inscribed with the words "Blessed be the dead who die in the Lord,"[5] providing a fitting ending to the tale of Elizabeth Chandler.
NOTES
[1] Connecticut. Church Records Index, volume 132, Woodstock, Connecticut State Library, Hartford, p. 31.
[2] Gregory Chandler, The Chandler Family: The Descendants of William and Annis Chandler who Settled in Roxbury, Mass., 1637 (Mass.: Press of C. Hamilton, 1883), p. 122.
[3] Connecticut. Church Records Index, 132: 31.
[4] Chandler, The Chandler Family, pp. 122–23.
[5] "Chandler Inscriptions," The New England Historical and Genealogical Register 15 [1861]: 339–40.