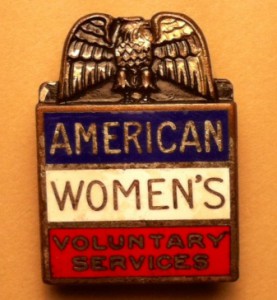 A little while back, my mother gave me several pins which had belonged to her mother. One of them was a badge for the American Women's Voluntary Services (AWVS), an organization established in 1940 that provided aid and assistance to the American armed forces and civilians. By the time Pearl Harbor was attacked, the AWVS had more than 18,000 members offering assistance ranging from food services to driving ambulances and administering first aid. [i]
Where was my grandmother living while a member of AWVS? I knew that she and my grandfather married in Manhattan in 1931, and according to the 1931 Manhattan and Bronx city directory, they resided in the Bronx. I, of course, first looked at the 1940 U.S. Federal Census to locate her and her family, but I could not find them.
I called my mom. "Where were you guys living in 1940? I can't find you!" My mother was only four years old then, but she remembered living in Belle Harbor, in Rockaway, Queens, just down from the beach; however, she did not know when they moved there. Later in our conversation, she recalled that in 1944 they had moved to Long Island sometime before Thanksgiving. She knew this because she remembered a damaging hurricane that occurred prior to their move. They had begun packing, and those boxes were stored in the basement; unfortunately, those packed belongings were damaged when the house flooded.
A quick internet search pointed to the "Great Atlantic Hurricane of 1944." Further research revealed that the hurricane hit the area on 15 September 1944.[ii]  As we talked, my mother mentioned that they lived near an army base. She recalled seeing my grandmother in a uniform; she also remembered going to the base with her and seeing women like my grandmother on an assembly line, making sandwiches and coffee.
Since the AWVS began in 1940, and I knew my grandparents were still living in Queens in 1944, I turned to the Queens Telephone Directory, New York Telephone Company, 1939-40; I found my grandfather in the directory, at the address my mother recollected. I accessed this directory via Direct Me New York City, a New York Public Library website.  This website enables one to use 1940 residential street addresses from the five boroughs of New York City and convert them into census enumeration districts using search tools based on Stephen Morse and Joel Weintraub's "1-Step" search engine.[iii]
Clicking on my grandfather's name yielded two enumeration districts. I searched the census records from the first enumeration district and found his name, along with my grandmother's and mother's names. Even better, I was also able to view a map of this district, and right down the beach was Fort Tilden, the army base where my grandmother most likely went to as a volunteer in the AWVS.
Notes
[i] Alice Throckmorton McLean. (2014). In Encyclopædia Britannica. Retrieved from http://www.britannica.com/EBchecked/topic/355045/Alice-Throckmorton-McLean.
[ii] http://www.nhc.noaa.gov/outreach/history/#great.
[iii] http://directme.nypl.org/.