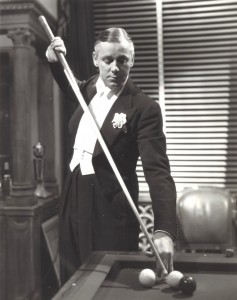 I am currently helping to research the ancestry of Dame Angela Lansbury for an event NEHGS will hold in November, and part of my work is focused on the theatrical tradition in the family of Miss Lansbury's mother, Moyna Macgill (1895–1975). Miss Macgill's career spanned the almost fifty years between 1918 and 1965, but it's worth noting that at least one of her great-uncles and several of her father's first cousins preceded her on the London and New York stage, while two of Miss Macgill's brothers, all four of her children, and assorted descendants and in-laws (including Sir Peter Ustinov and Ally Sheedy) continued in the field.
As I've mentioned in some of my blog posts, one of my research interests is old photographs, whether of my own family or as part of an aesthetic appreciation of the form. I have a growing collection of photographs from (what we now call) the "Golden Age of Hollywood": roughly the period between 1920 and 1950. The collection includes at least one actor known to have worked with Moyna Macgill: Herbert Marshall (1890–1966), who appeared in two plays in London with Miss Macgill during the 1920s.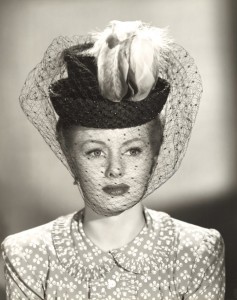 There can be an alchemy between sitter and photographer, and I have bought many of these pictures as much to have an example of the photographer's work as for the star subject. One of the photographers whose work I covet is Eugene Robert Richee (1896–1972), whose iconic photograph of Louise Brooks – dressed in black against a black background, her raven hair geometrically bobbed, lit by a long strand of pearls and her own pale face – is one of the most famous images ever taken in Hollywood. I have other photographs by Richee, photos with the sitter identified and (sometimes) the name of the film for which the still was created, but the greatest mystery in my collection is this one, of an unidentified woman taken when Richee was the chief stills photographer at Warner Brothers.
Is it, as I first thought, a photograph of Lucille Ball (1911–1989)? Is it, instead, a photo of her best friend Ann Sothern (1909–2001)? I don't think either actress was at Warner's in this period, while both were at MGM, where Richee joined them later in the 1940s.
It's a curious artifact, to my eyes, since Richee was the top man in the department – why is this attractive woman wearing so casual a dress with such splendid headgear? Is it a costume test? For which part of the costume – the dress? the hat and veil? Both Miss Ball and Miss Sothern were top stars of the period, which is fitting, and yet the faint stamp on the back identifies only the studio (Warner) and the photographer (Richee).
I suspect that, as so often, the sitter's identity was no mystery to contemporaries: what had to be included was information about the origin of the image and its maker. Does she seem familiar to any Vita Brevis reader?